Baked Chicken, Okra & Tomatoes over Pepper Jack Grits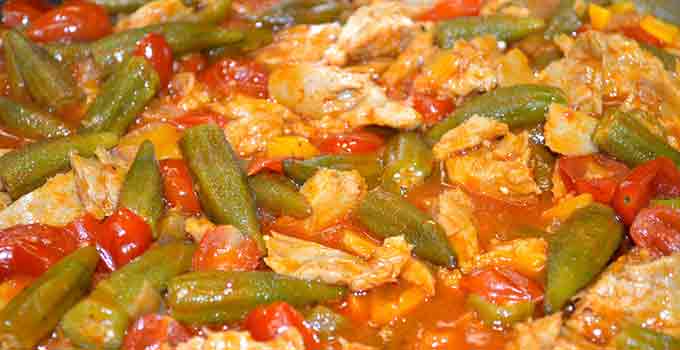 Recipe type:
Weekend Dinner
1–2 tablespoons extra virgin olive oil
2 Baby Vidalia onions, tops and roots removed, cut in half and thinly sliced
2 cloves garlic, pressed
1 medium red, yellow, or orange bell pepper, cut into thin matchsticks
¼ pound mushrooms, cleaned and sliced (about 2 cups)
½ pound small okra pods, wiped clean and sliced in thin rounds (a little less than 2 cups)
28-ounce can diced tomatoes or diced fire roasted tomatoes
4 sprigs thyme
3 sprigs oregano
2 sprigs parsley
Sea salt and freshly ground black pepper
1 package Quorn Naked Chik'n Cutlets (4 cutlets), thawed
3 sprigs parsley, finely minced
Preheat oven to 400°F. Heat a skillet and add the olive oil. Sauté the onions for 5–6 minutes. Add the garlic and sauté for a minute, and then the bell pepper. Cook for 3–4 minutes.
Add the mushrooms, and sauté for 4–5 more minutes.
Clean the okra (see head note) while the mushrooms are sautéing. Add the okra and sauté for about 2–3 minutes before adding the tomatoes. Put in the whole sprigs of thyme, oregano and parsley (you'll take them later). Cover and let simmer for about 15 minutes.
Take out the herb sprigs, taste, and correct seasoning. Make sure the okra is tender enough. If not, cover the skillet and cook it a little longer.
Lightly oil 4 small individual baking dishes or one small rectangular baking dish that will hold all 4 cutlets. Put a little of the sauce on the bottom and then put in the cutlets with the rounded side facing up. Pour the sauce over the cutlets. Bake for 10 minutes. Sprinkle with fresh minced parsley.
Serve with Pepper Jack Grits.
© 2012, Nancy Olah. All Rights Reserved.
Recipe by
Fool a Carnivore
at https://foolacarnivore.com/baked-chicken-okra-tomatoes/