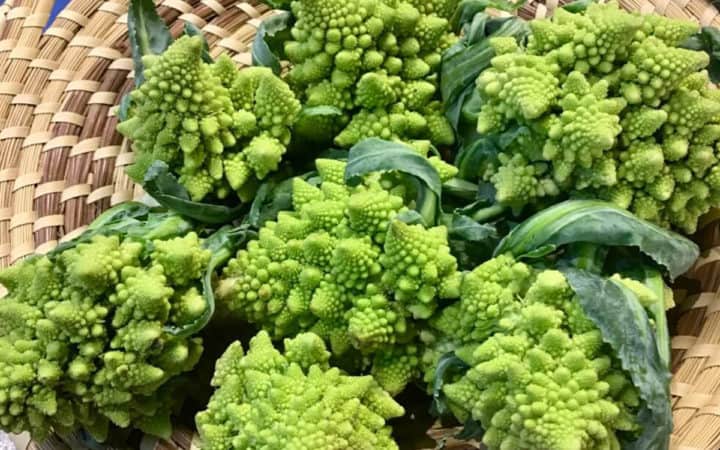 Don't be afraid of trying a veggie that looks like it could have been grown on another planet.
When I stumbled upon this chartreuse colored beauty two weeks ago at my local Bush 'n Vine, I knew that I had to try it.
With a bit of research, I learned that some folks call it Cauliflower Romanesco – which others claim it is Broccoli Romanesco.
All debate aside, to me it seems much closer to cauliflower than broccoli, with a sweeter, milder. nuttier flavor than cauliflower.
Let's just call it Romanesco for short!  
And what a gorgeous shape! Each individual flowerette reminds me of the Christmas Tree Worms we encounter  on coral heads when we are scuba diving in Little Cayman. (If you've never seen a beautiful Christmas Tree Worm, here's  a close-up of a photo taken by my talented diving friend Sy Halberg.)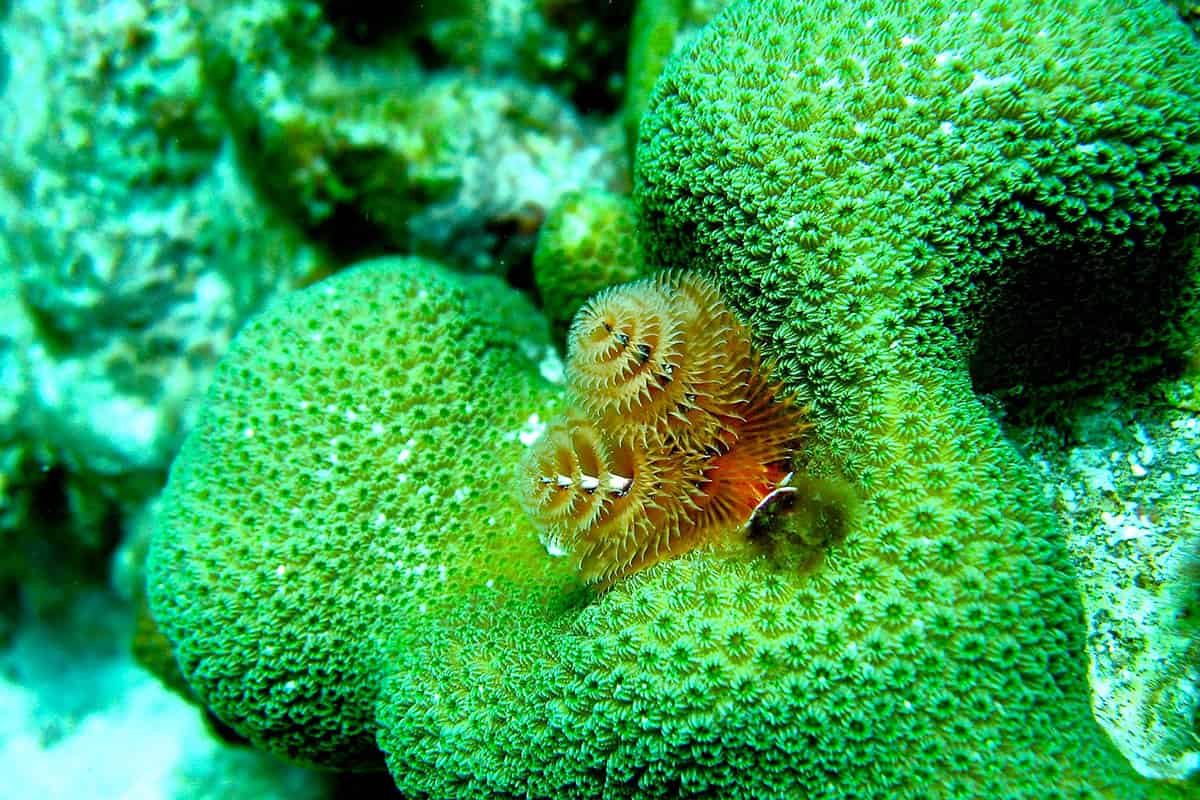 The precise, geometric whorls of Romanesco look nothing like those those sturdy pedestrian heads of cauliflower or broccoli that grace my table every week.  Romanesco actually looks like a work of art!
I've now made Romanesco three times, so I can tell you what works . . . and what doesn't.
With my first batch, I oven roasted the Romanesco flowerettes like I would cauliflower with olive oil, garlic, sea salt, and freshly ground pepper.  Alas, I found that roasting it in the oven (while delicious) diminishes Romanesco's eye-popping hue and makes it look . . . well, ordinary.
For my next foray, I wanted to work with the color of this glorious alien-looking veggie. I decided to steam it until it was crisp-tender, and then shock it with a colander full of ice cubes to preserve its lovely shade of green.
While I found some recipes that swore that it only needed to be cooked for 2-3 minutes, I found that 9-10 minutes was perfect for the salad I had  in mind.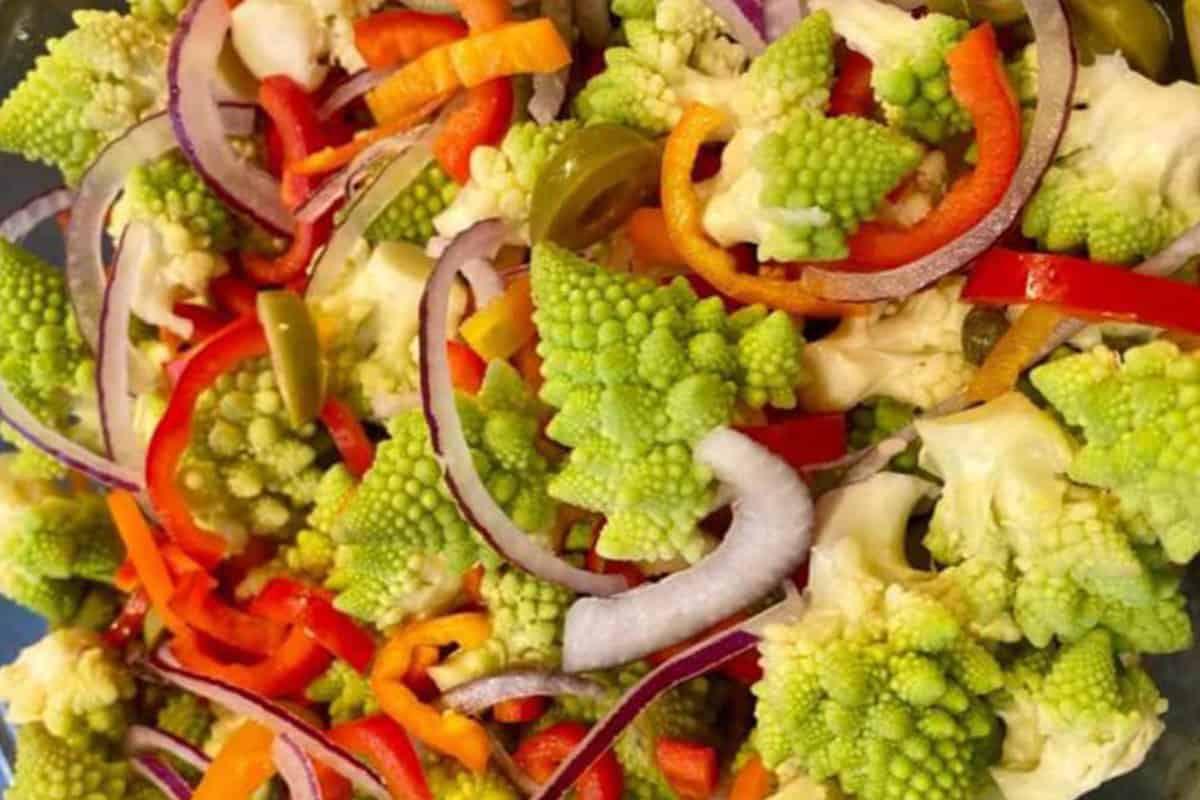 I soaked thinly sliced red onion in water for about 30 minutes, which minimizes its bite.  I slivered red and orange mini peppers for color, and added sliced green olives and capers for astringency.  I tossed everything with a simple vinaigrette made with lemon juice, Dijon mustard, fresh dill and parsley, extra virgin olive oil, sea salt, and freshly ground pepper. The salad came together quickly, and was a delightful, and unusual looking accompaniment to that evening's pasta.
For my third date with Romanesco, I wanted to make a pasta, but still preserve Romanesco's chartreuse hue.  I also wanted to use another cruciferous vegetable, but didn't want to use cauliflower or broccoli.  Brussels Sprouts were the answer!
I steamed my Romanesco flowerettes in a large pot of salted boiling water and then shocked it quickly with ice to preserve color, as I did with the salad.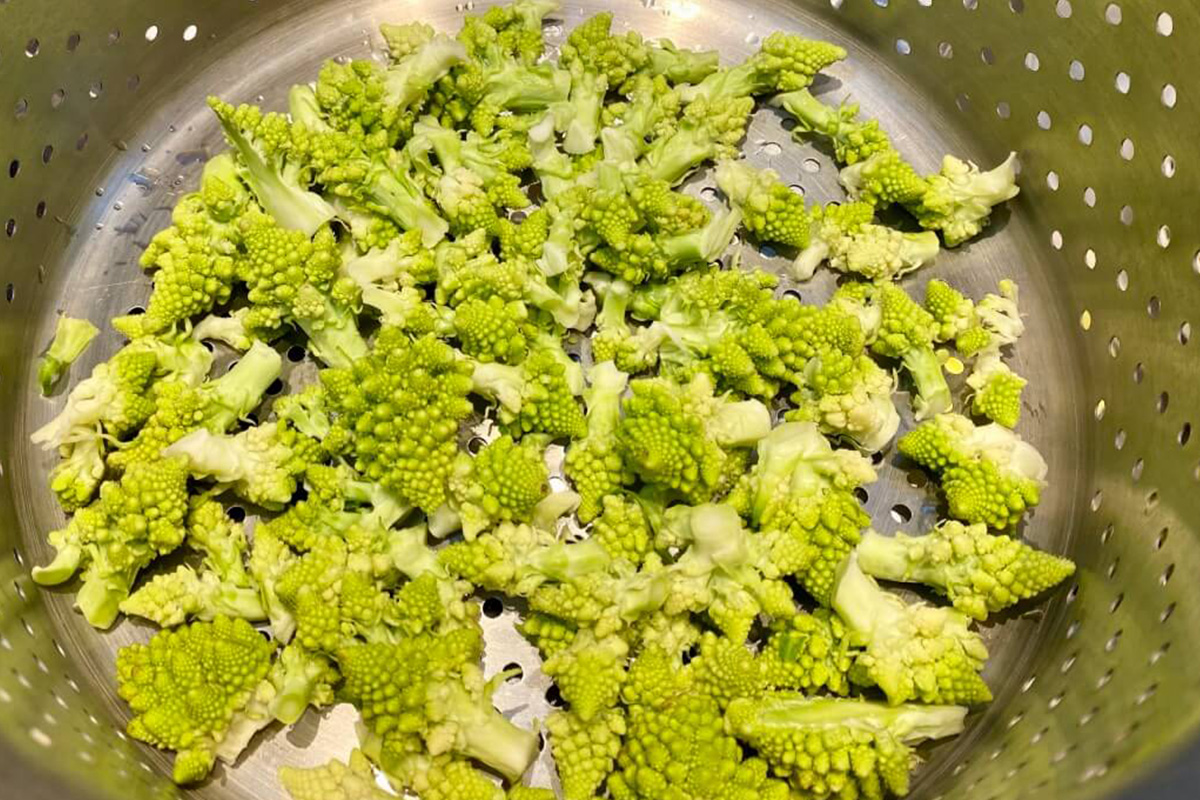 Meanwhile, I skillet roasted my halved Brussels Sprouts and red pepper slivers with extra virgin olive oil and a splash of white wine, and boiled my pasta shells in the same large pasta pot in which the Romanesco had been steamed.  I also stirred together in a small bowl some Chipotle flavored olive oil, Dijon mustard, two pressed garlic cloves,  the juice and zest of one large lemon, salt, and pepper.
To quickly reheat the steamed Romanesco, I removed the remaining ice cubes, reserved a cup of the hot pasta water, and poured the remaining hot water with the cooked shells over the steamed Romanesco.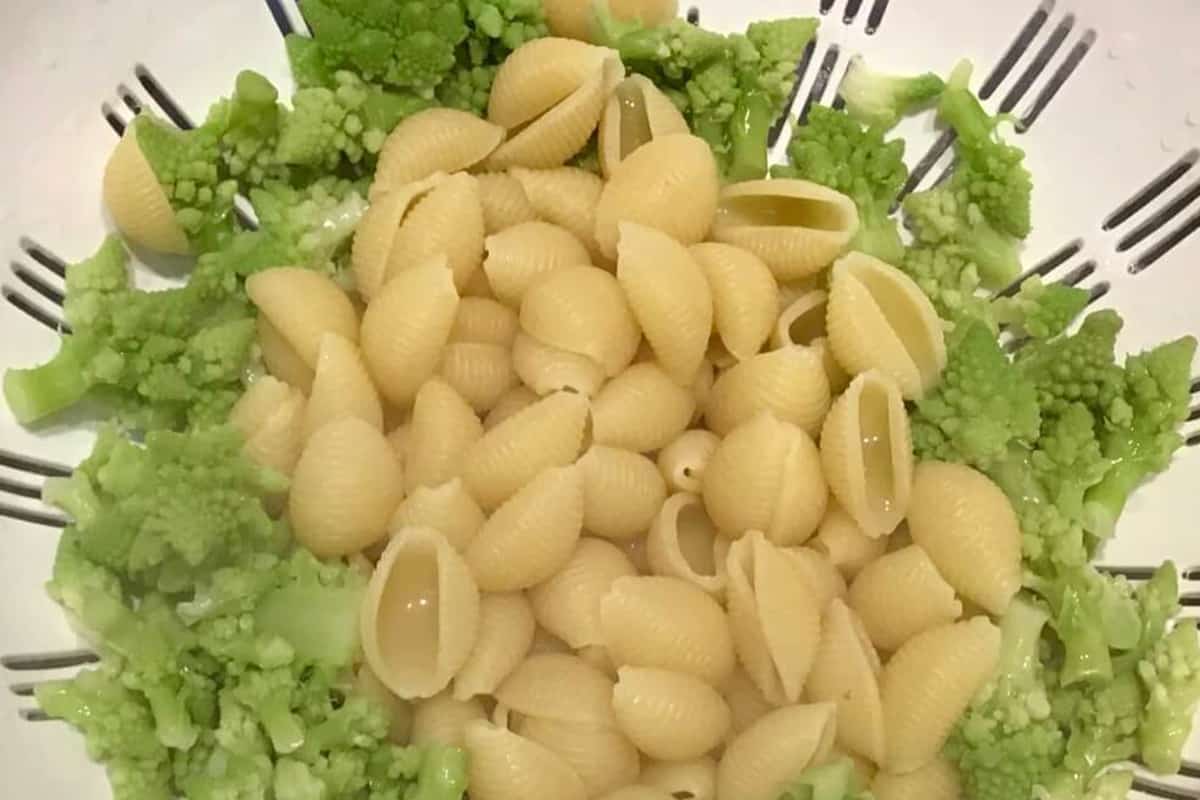 Working quickly, I tossed the contents of my colander (the cooked shells and Romanesco) into the skillet with the Brussels Sprouts and red pepper pieces, added my lemony olive oil mustard mixture, and loosened the sauce with about half of the reserved pasta cooking water.
The result was an intensely flavored and interesting combination that needed no cheese or dairy for embellishment. (Although if you're not eating vegan and would like to add some unsalted butter and a sprinkling of freshly ground Parmesan, that would be delicious, too!)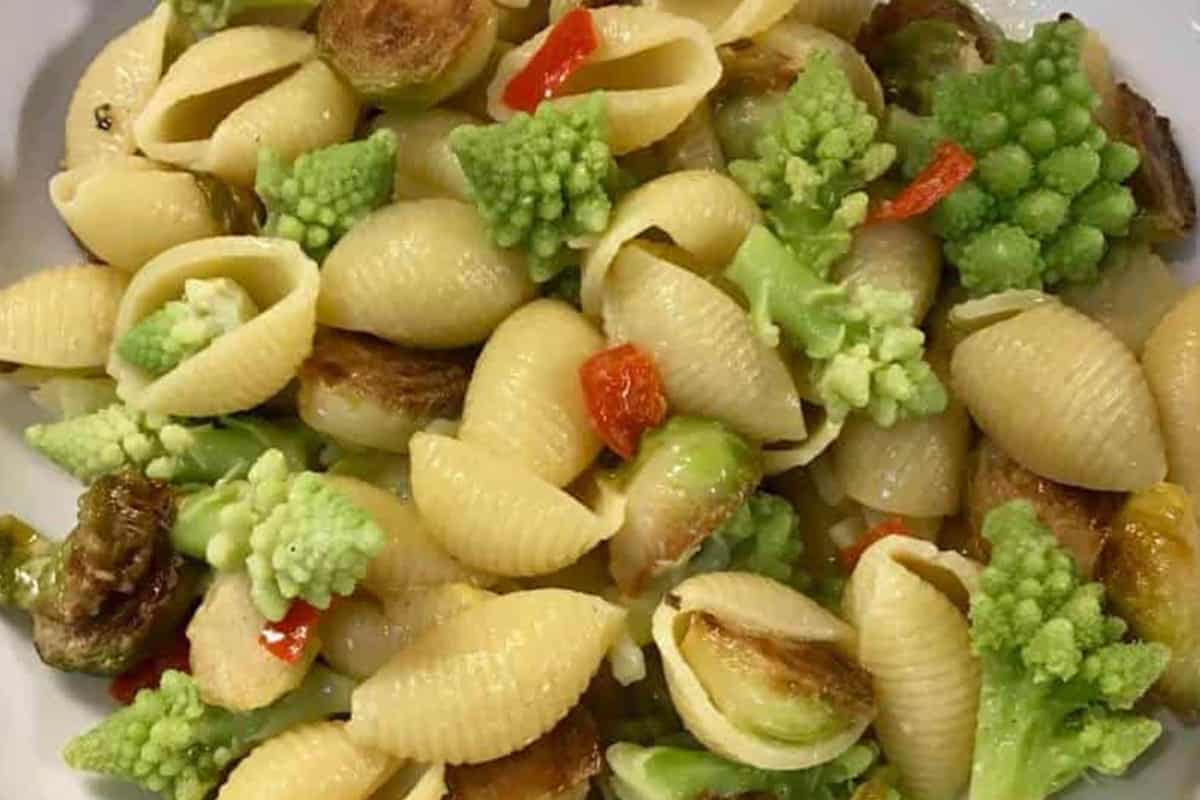 This combination was so unique that I thought adding any plant-based protein products would take away from the delightful texture contrast of the sturdy, well-roasted Brussels Sprouts and the mild delicacy of the Romanesco.
If you can find Romanesco at your local farmers' market, don't shy away. Be bold and buy it. Remember – it's just  cauliflower from another planet!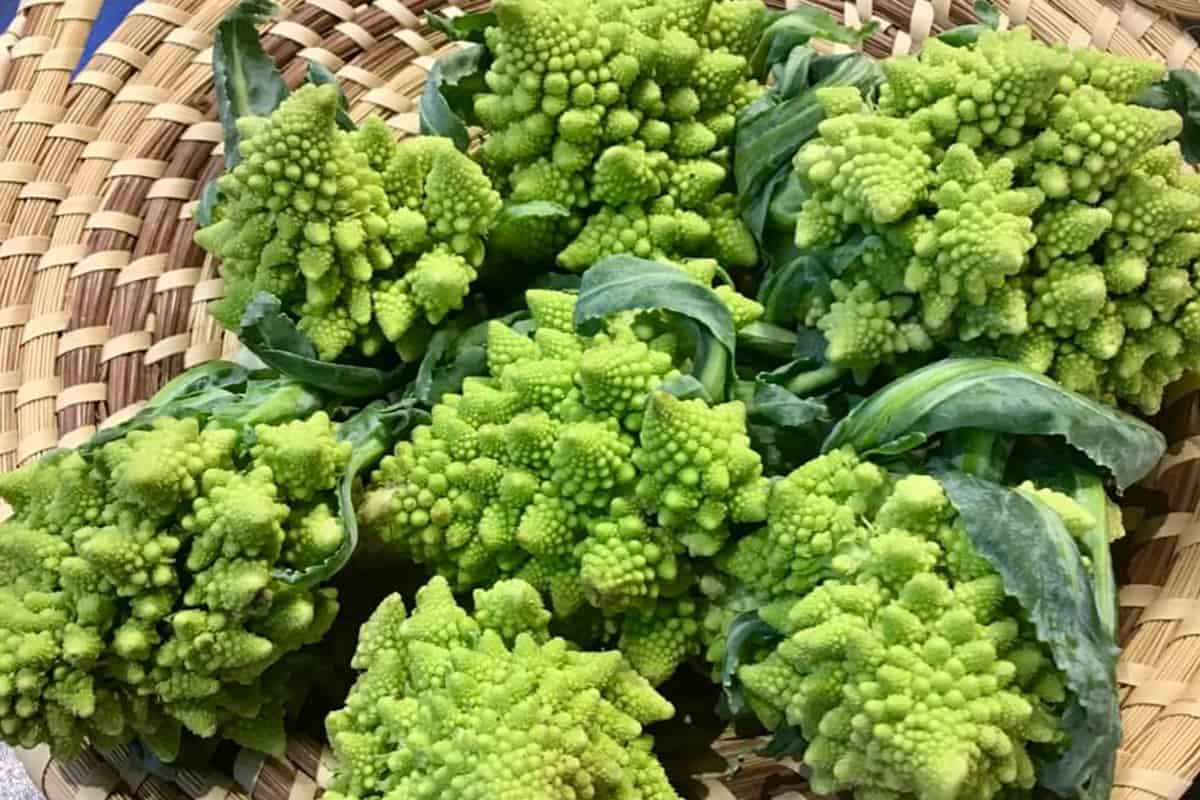 Cauliflower from Another Planet
Recipe type:
Easy Weeknight Meals
Ingredients
Several heads of Romanesco (depending on size)
1 tablespoon salt
1 lb. Brussels Sprouts, trimmed and halved
3 tablespoons extra virgin olive oil
1 small red bell pepper, slivered or cut into small pieces
¼ cup white wine
Sea salt and freshly ground pepper
8 ounces of medium shells
2 tablespoons Chipotle flavored olive oil (or use regular extra virgin olive oil and red pepper flakes)
2-3 garlic cloves, pressed
2-3 teaspoons Dijon mustard
1 large lemon, zested and juiced
Sea salt and freshly ground pepper
(optional additions for noon-vegans: up to 2 tablespoons unsalted butter and/or freshly grated Parmesan cheese, to taste)
Instructions
Cut the base of each head of Romanesco, remove leaves, and separate into small flowerettes. Put the flowerettes in a steamer. Bring a large pasta pot of water to a boil, add the salt, and immerse the separated flowerettes into the pot of water. Steam for about 9 minutes. (I started tasting them at about 3 minutes, and then again at 6 minutes, and then at 9 minutes. I thought 9-10 minutes was just about perfect, but you may want yours cooked a little less or more, depending on the size of your flowerettes, and your own taste preferences.)
Before you remove the steamer basket, have a pitcher of ice cubes ready. Put the steamer basket in a colander, and pour on the ice cubes. You want to cool down the Romanesco quickly to preserve its lovely color. Remember, you are leaving the rest of the hot water in the pasta pot so you can cook your shells.
Meanwhile, arrange the Brussels Sprouts, cut side down, in a large nonstick skillet. Drizzle the olive oil over the sprouts, cover the skillet, and cook over medium-high heat for 5 minutes until the cut sides of the sprouts are starting to brown.
Uncover the skillet and add the red pepper slivers. Add the white wine and continue to cook uncovered for about 5-6 more minutes. Using your spatula or gongs, move the sprouts around so that they continue to brown and soften. The sprouts should be well browned on the cut sides, and tender.
While the sprouts are cooking, you are going to make your sauce and cook the pasta.
Bring the pot of water back to a rolling boil and add the medium shells. Cook the shells for about 10-12 minutes, or according to package directions. Cook until al dente. Reserve 1 cup of hot pasta water.
While the pasta is cooking, put the Chipotle flavored olive oil (or olive oil and red pepper flakes) in a small bowl, along with the pressed garlic, Dijon mustard, the lemon zest and juice, sea salt, and freshly ground pepper.
Remove any unmelted ice cubes from the cooled down Romanesco, and dump the cooled Romanesco into the colandar. Pour the pot of hot water and cooked shells into the colander, which will reheat the Romanesco without destroying the color you've worked so hard to preserve.
Put the cooked shells and Romanesco into skillet with the Brussels Sprouts, add the sauce (the olive oil, garlic, Dijon mustard, and lemon mixture). Loosen the sauce with the hot pasta water. Taste and adjust seasonings, adding a bit more salt and pepper, if you think it's needed, as well as the optional unsalted butter.
Serve in large pasta bowls, along with a sprinkling of the optional Parmesan. But honestly, taste it first before automatically adding cheese. It's very good without it!
Notes
© 2020 Nancy Olah
All Rights Reserved.