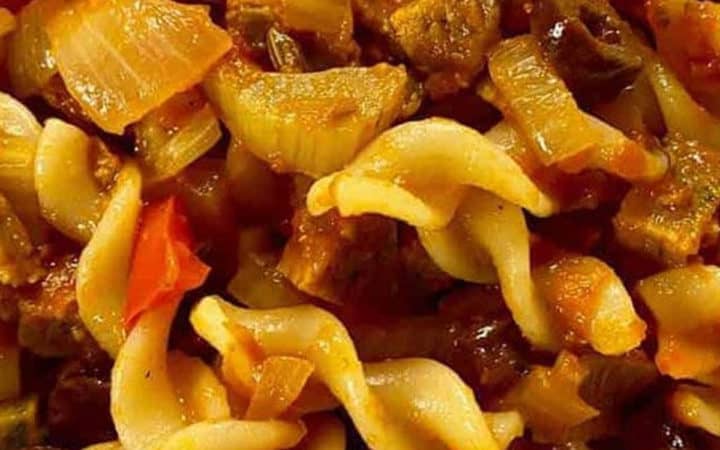 I had a face-palm moment the other day when I finally realized the simplest way to increase the amount of veggies I was consuming and reduce the amount of carbs.
I have been  remaking (and tweaking) quite a few of my recipes from Fool a Carnivore with new plant-based protein products that didn't exist back in 2012 when my book was first published.
It suddenly dawned on me that if I made my sauce and only boiled ½ lb. of pasta, I could reduce our calorie and carb intake, while doubling the amount of veggies (and plant-based protein) . . . and still, have enough leftovers for a couple of tasty lunches.
Duh… yes, this seems blindingly obvious now, but I honestly had never thought about it before.
I suppose I always thought that the pasta would be too "saucy" and not have the right balance between sauce and pasta.  But, to my surprise, I found that we actually preferred the emphasis on my veggies and protein in the finished dish. Of course, I reserved some of the sauce to toss with leftovers, which helped keep them moist and tasting just as good the next day as the previous night's meal.
Give this simple trick a try in any recipe. Make the full sauce recipe and half of the amount of pasta. Toss the pasta with 3/4 of the sauce (and about a cup of the hot pasta water). Reserve the remaining sauce to add a smattering on top of each bowl of pasta or use the sauce tomorrow to help you reheat (and enjoy) the leftovers for lunch.
OK – I realize that this may sound totally obvious to you .  . . but I was thrilled to finally discover such an effortless way to increase my veggies and protein while cutting down my carbs!
There are lots of recipes where you can do this same simple trick. Please try my recipe below – and let me know about your recipes where you have reduced carbs!
Rotini with Spinach Pesto Sausage, Fennel, and Olives
Recipe type:
Easy Weeknight Meals
Ingredients
2 tablespoons extra virgin olive oil (divided use)
1 onion, finely chopped
3 cloves garlic, pressed or minced
1 teaspoon crushed red pepper flakes
1 fennel bulb, quartered lengthwise, bottom, fronds, and core removed, and thinly sliced
1 red or orange bell pepper, chopped
12 ounces diced tomatoes (or an equivalent amount of chopped fresh tomatoes)
¼ cup white wine
½ cup vegetable stock
½ cup black Kalamata olives, pitted and sliced
2 Tofurky Spinach Pesto Artisan Sausages (1/2 of a 14 oz. package)
Sea salt and freshly ground black pepper
½ lb organic rotini or fusilli (either is good, and Simple Truth Organic or DeCecco Organic are my current favs)
Freshly grated Parmigiano-Reggiano (completely optional)
Instructions
Heat a skillet and add 2 tablespoons of olive oil. Sauté the onion over moderate heat for 5–6 minutes until the onion is translucent. Add the garlic and sauté for another minute.
Add the crushed red pepper and sliced fennel and sauté for another 3–4 minutes. Add the chopped peppers and tomatoes and cook for another 3 minutes Add the wine and cook for a few minutes until mostly evaporated, and then add the stock. Cover and cook for about 5-6 minutes. Add the olives, and cook until the fennel is very tender.
Meanwhile, bring a large pot of water to a rolling boil, add a tablespoon of salt, and cook the pasta for 9-11 minutes depending on package directions. Reserve 1 cup of hot pasta water before you drain the pasta in a colander.
While the pasta is cooking, add the chopped sausage pieces to the fennel mixture. Cook uncovered for about 5-6 more minutes. Taste carefully, and add a little sea salt and freshly ground black pepper.
Serve immediately with the optional grated Parmigiano-Reggiano.
Serves 4 (or 2 tonight and leftovers tomorrow)
Notes
© 2020 Nancy Olah
All rights reserved.