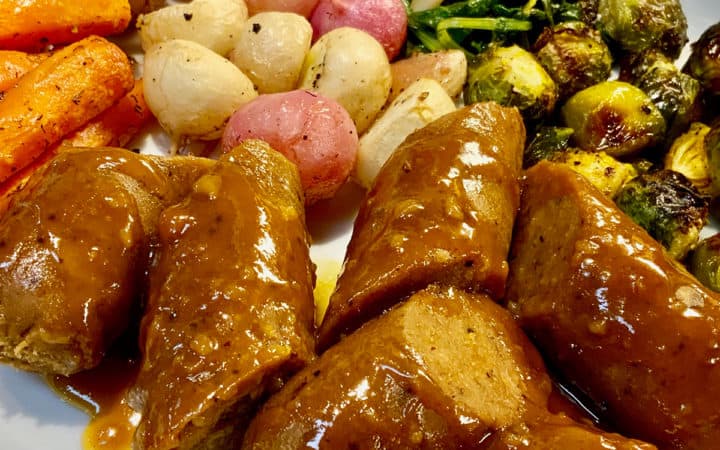 Most people love the convenience of sheet pan dinners, but the sad truth is that ingredients are often unevenly cooked – especially plant-based protein products which cook much more quickly than meat.
At least, that's what I thought before I was introduced to Cheat Sheets.
A dear friend gave me a Cheat Sheet Pro Set and I've been adapting classic sheet-pan dinners to my favorite vegan plant-based protein products – like Field Roast Smoked Apple Sage Sausages.
Cheat Sheets are the ingenuous invention of Prepd, a company that launched a Kickstarter campaign last year.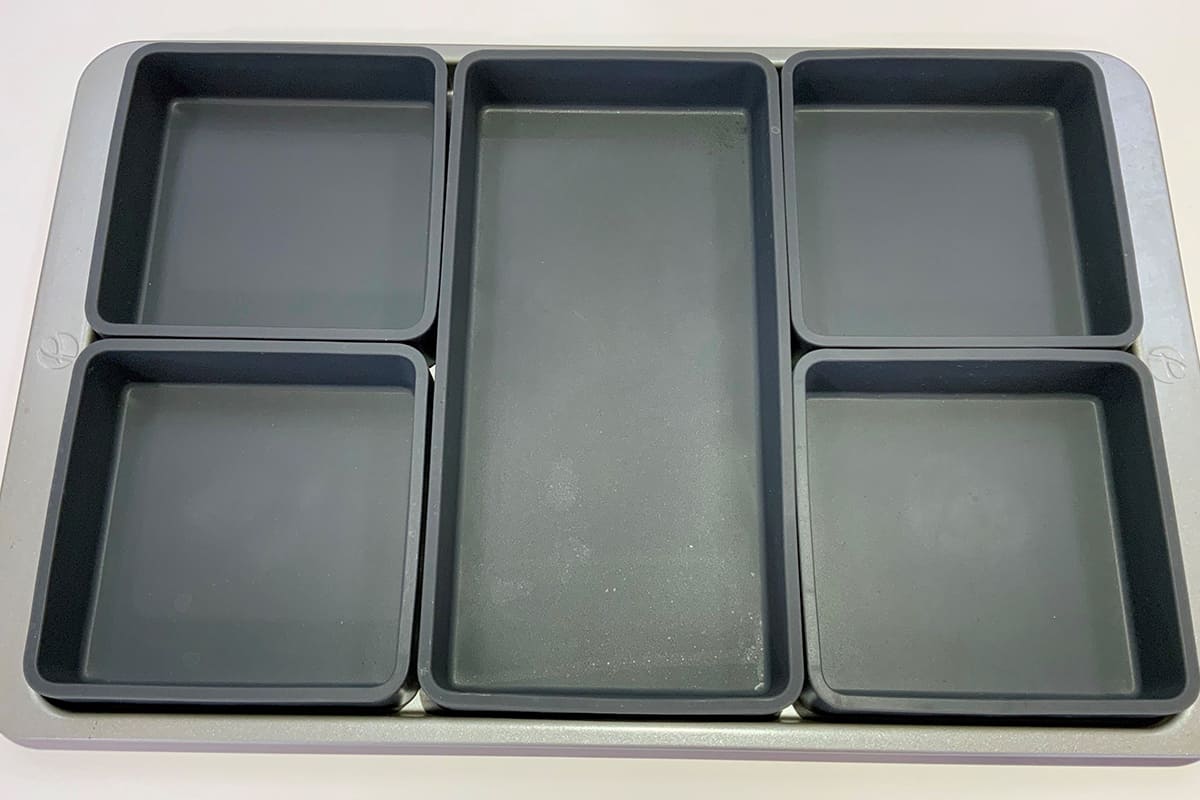 A set consists of a heavy duty non-warping sheet pan, and modular food safe silicone dividers, that can be configured in a variety of ways, and are oven safe up to 450o F. The silicone compartments are made from sand, not plastic, and are extremely durable (not to mention dishwasher safe!)
Because ingredients can be separated on a Cheat Sheet (instead of being all slopped together on a sheet pan), I can vary my oils, marinades, and spices to keep everything fresh and interesting. Because the Cheat Sheet dividers are made from silicone, nothing sticks, making clean-up a snap – without the use of aluminum foil that gets thrown away after use.
I paired the Field Roast Smoked Apple and Sage Sausages with 6 vegetables. As you may know, according to the USDA Dietary Guidelines for Americans 2020-2025, 90% of Americans do not eat the recommended amount of vegetables.
But you won't have that problem if you make this recipe for dinner!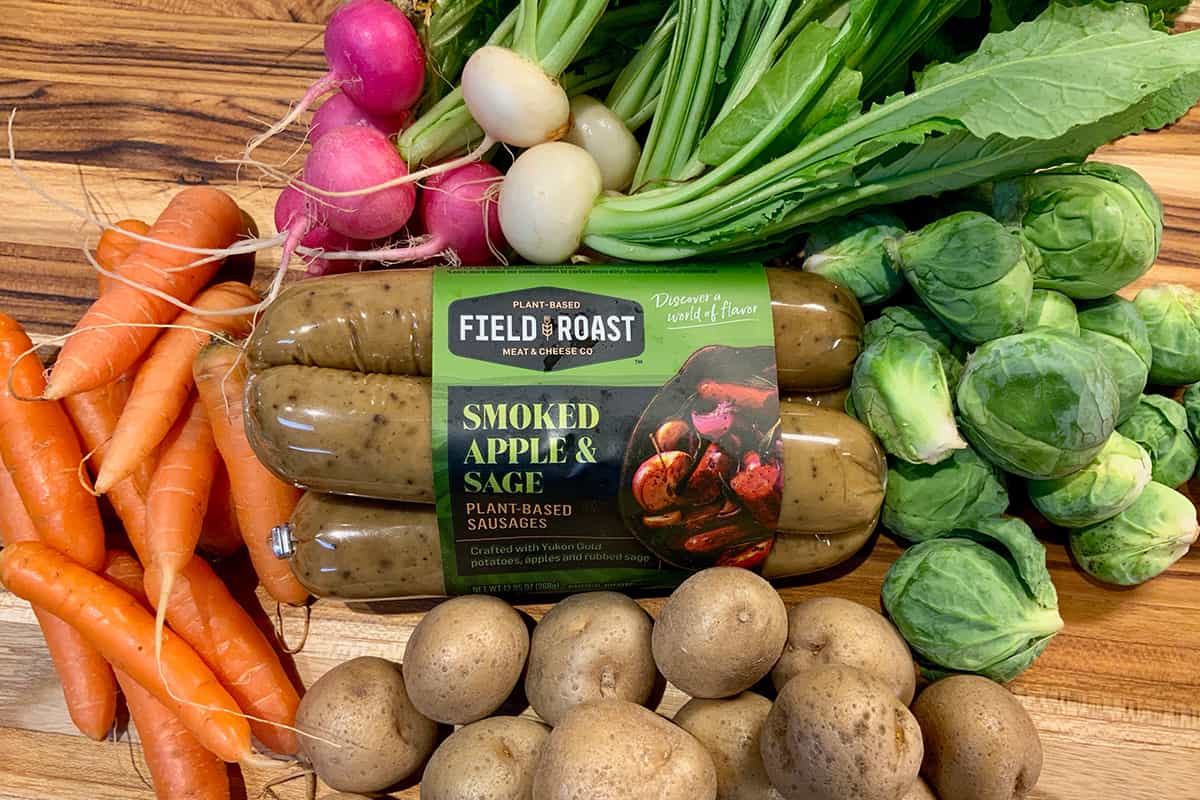 My recipe features Brussels Sprouts, new potatoes, carrots, radishes, turnips, and turnip greens. That's six different vegetables in one meal. (Yes, buying baby turnips at the farmers market with the fresh greens attached gives you two healthy vegetables for the price of one!)
I trim and prep my veggies using different olive oils and herbs for each, so that your entire plate of food isn't seasoned the same way. For example, I happen to like dill with carrots, smoked paprika with potatoes, and thyme with Brussels Sprouts.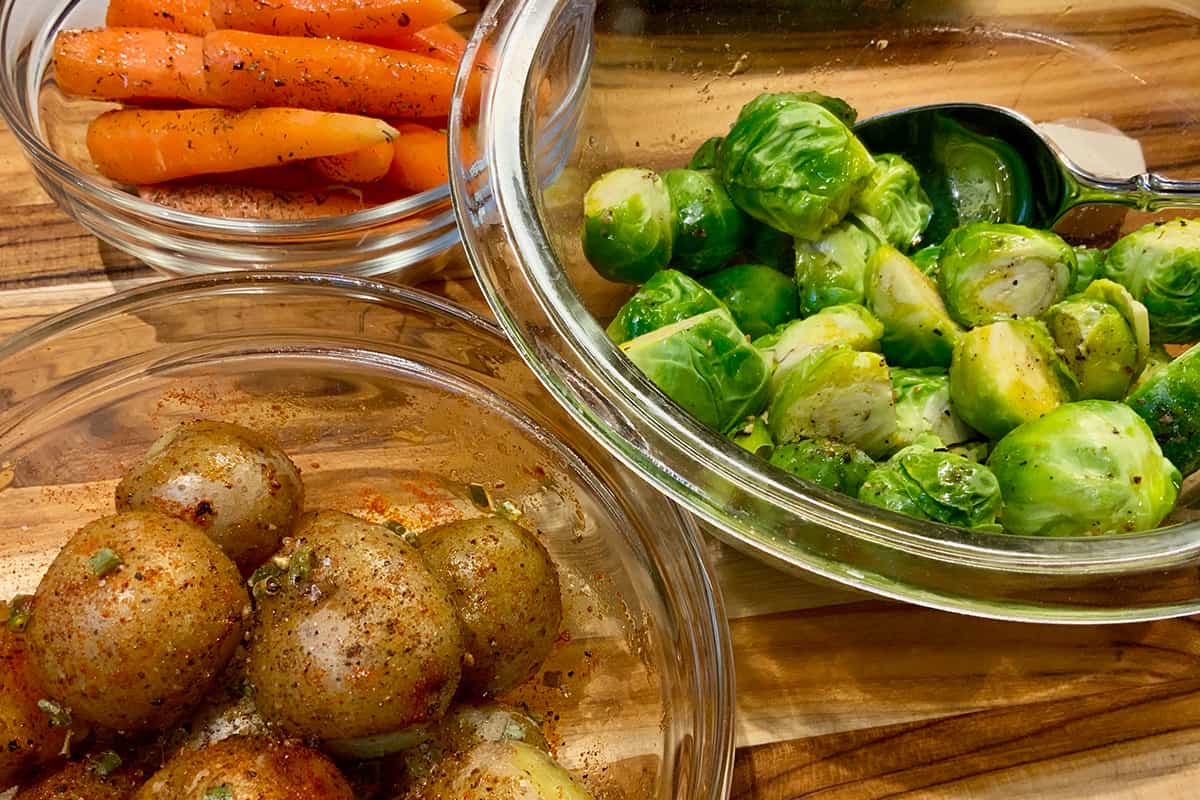 Keep in mind that the combinations I used in the recipe below are just suggestions. Use your creativity – there is no limit to the mixes of different healthy oil, herbs, and spices that would be fabulous, too!
Using the Cheat Sheet modular components, I paired the veggies with the appropriately sized silicone compartments.  Since I had more Brussels Sprouts than I did potatoes, carrots, radishes, and turnips, I used the long rectangular containers for the Brussels Sprouts, and put the potatoes, carrots, radishes and turnips in the smaller squares. But,  if you adore carrots and potatoes, just use the size that works for the amount of veggies you want to use.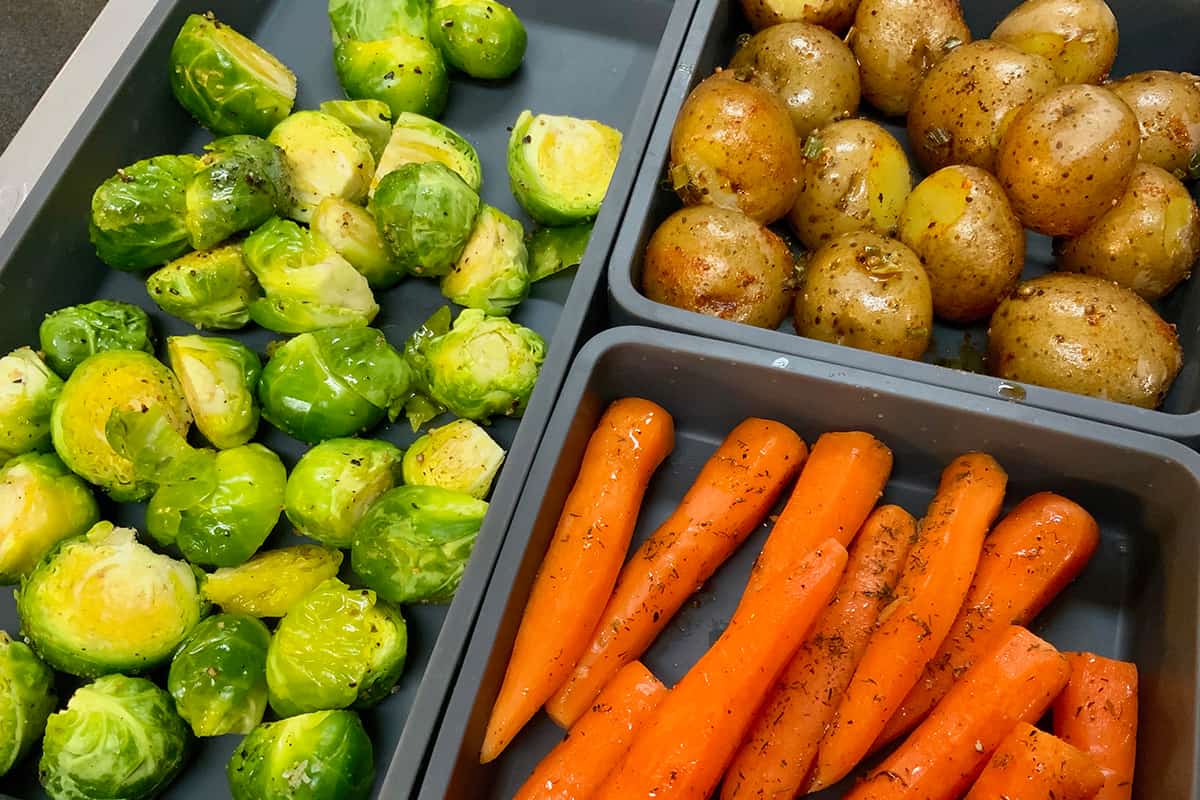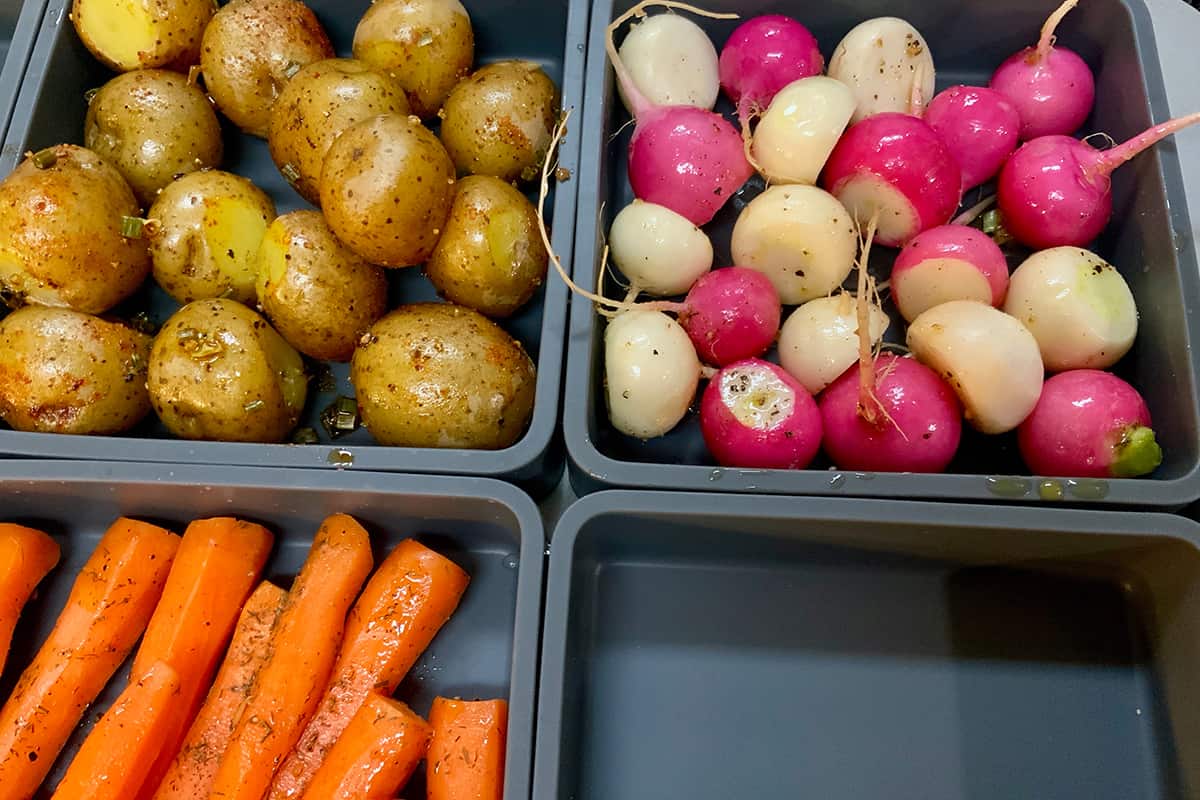 Veggies that cook quickly can be removed when they are done, so that they don't get overcooked.  Because each veggie is being cooked in a separate compartment, they can also be put back on the sheet pan a few minutes before serving to reheat.
About fifteen  minutes before we wanted to eat, I lowered the heat from 400oF to 350oF, removed the casings on the Field Roast Smoked Apple Sage Sausages, and cut them into thirds.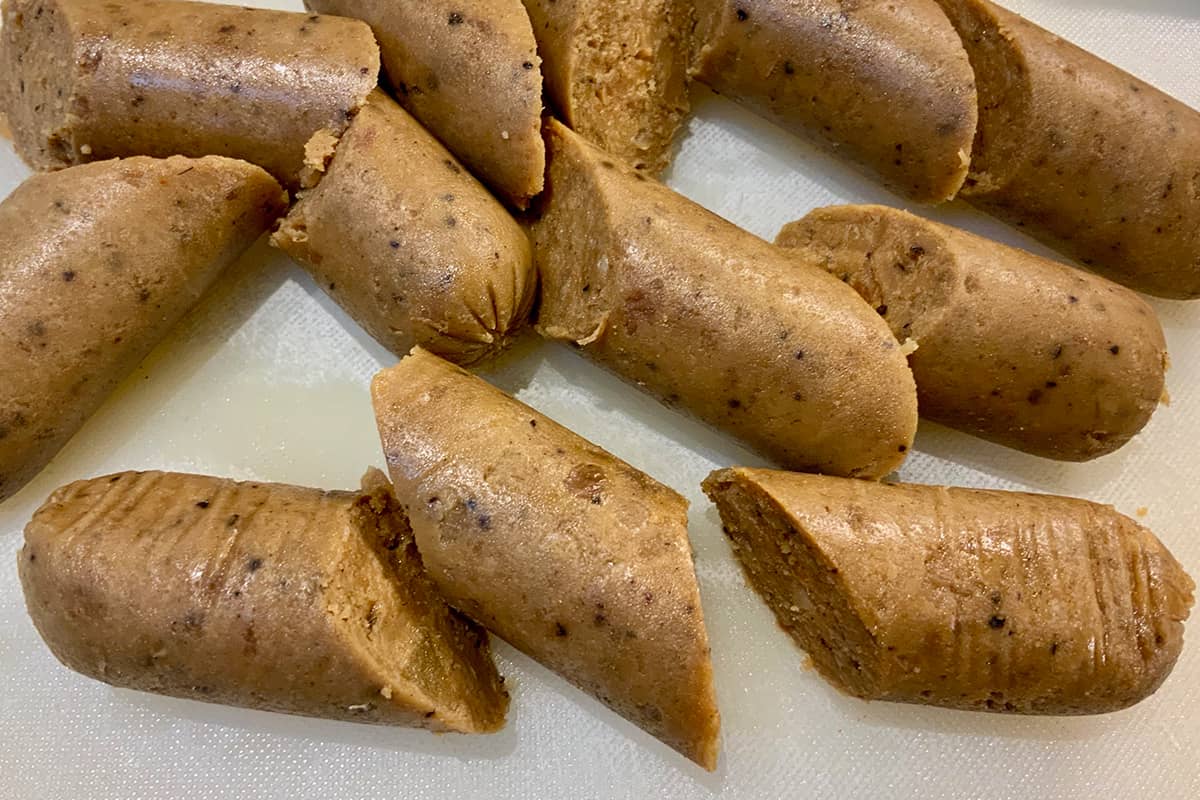 I mixed my honey mustard sauce, and spread it over the cut up sausages, which conveniently fit into a rectangular Cheat Sheet module.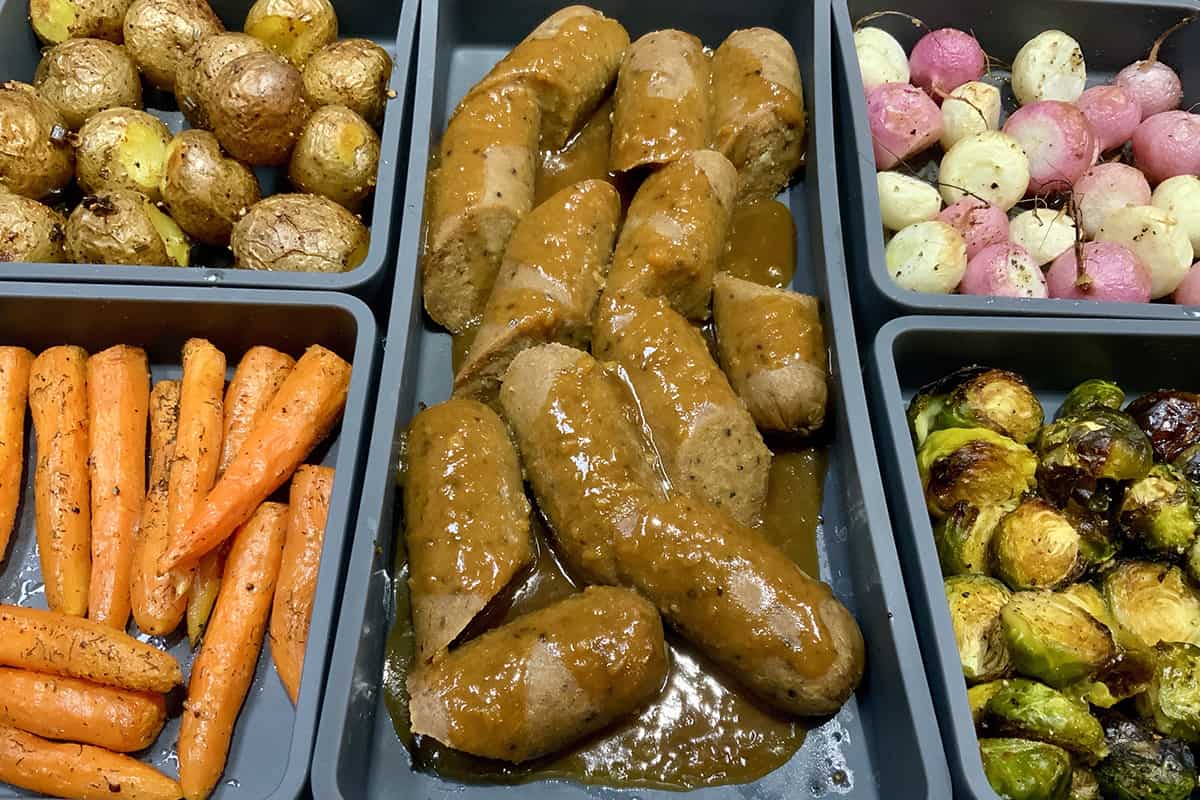 While the sausages are cooking for 10 minutes at 350oF, I washed the turnip greens, blanched them for a minute in a large pot of boiling salted water, and then sauteed them with thinly sliced garlic in olive oil. If your turnips came without greens, feel free to substitute collards, kale, chard, spinach, or any other kind of healthy dark leafy green.  (If you are using spinach or Swiss chard, those greens  won't need to be blanched.)
There you have it . . . a delicious, easy vegan sheet pan meal brimming with distinct flavors, thanks to Cheat Sheets!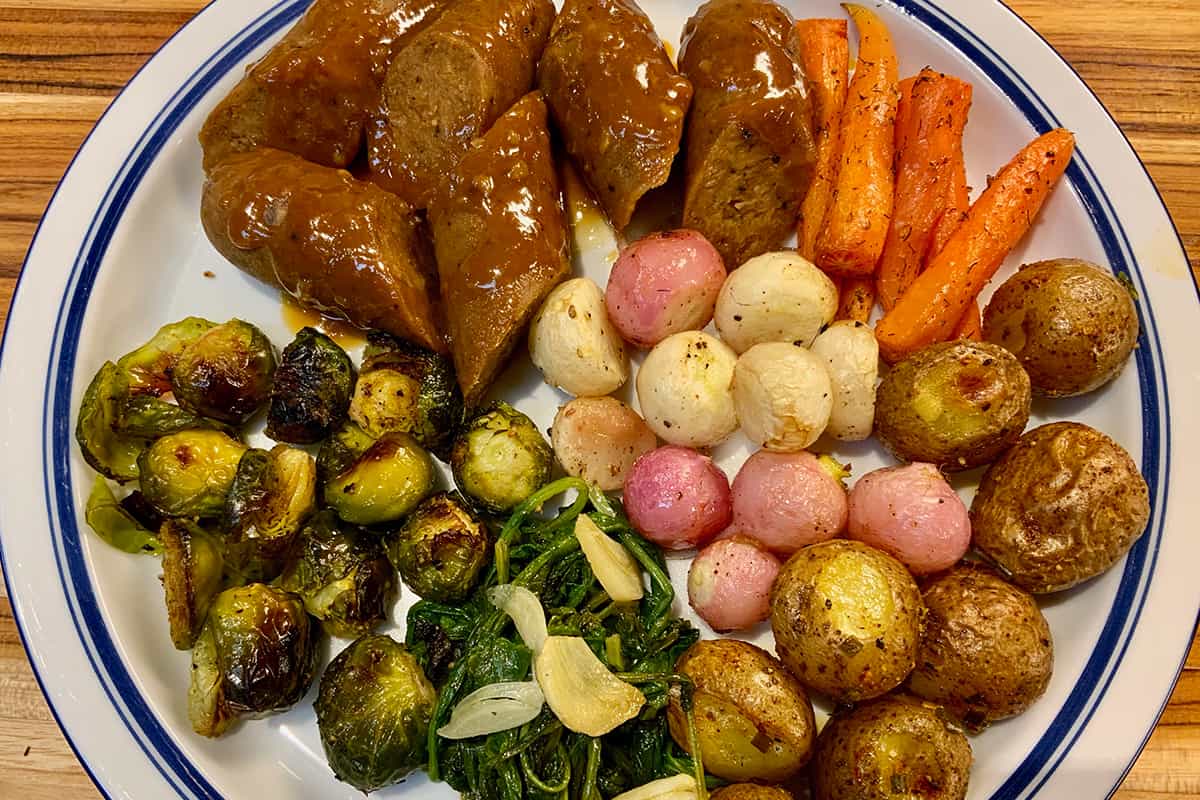 PS:  If you want to try Cheat Sheets and missed the original Kickstarter campaign, I see that they are now available at Sur la Table, Target, Amazon, and other retailers.

Sheet Pan Honey-Mustard Vegan Sausages and Veggies - Cheat Sheet Style!
Ingredients
1 pint Brussels Sprouts, bottoms trimmed and halved (tossed with basil garlic olive oil, thyme, salt, and pepper)
15 small carrots, peeled (tossed with extra virgin olive oil, dill, salt, and pepper)
15-20 new potatoes, scrubbed (tossed with chili olive oil, smoked paprika, garlic powder, salt, and pepper)
12 baby radishes and 12 baby turnips (tossed with citrus olive oil, cumin, salt, and pepper)
¼ cup raw honey
2 tablespoons soy sauce (San-J Low Sodium is great)
3 tablespoons Dijon mustard
½ small lemon, juiced
1 package Field Roast Smoked Apple and Sage Sausages, casings removed
Turnip greens that came with the bunch of baby turnips (or another kind of healthy greens)
Extra Virgin Olive oil
Sliced garlic
Instructions
Heat oven to 400 F. Clean and prepare your vegetables, placing them in separate bowls with the suggested olive oils, herbs, and spices (or your own creative combinations).
If you are using Cheat Sheets, place the veggies in appropriately sized silicone compartments. If you are not using Cheat Sheets, spread non-stick aluminum foil on your rimmed sheet pan and spread your veggies in an even layer (trying to keep them a bit separate, as best you can.) Roast about 15 minutes and check to see which are cooked, and which may need a bit more time. Since I don't know the exact size of your potatoes or Brussels Sprouts for example, you may need more or less time to get the degree of doneness that you and your family prefers.
Lower the oven temperature to 350 F. In a small bowl, mix the honey, soy sauce, mustard, and lemon juice.
Slice the Field Roast Sausages into thirds. Put them in a rectangular cheat sheet compartment, and drizzle the honey mustard sauce on the sausages. Remove the sheet pan from the oven and place it on a cooling rack. If you are using a Cheat Sheet, remove any veggies that seem done to make room for the compartment with the sausages. If you are not using a Cheat Sheet, just add the sausages to the sheet pan. Return the sheet pan (or the Cheat Sheet) to the oven, and cook for about 10 minutes while you make your turnip greens.
Blanch the cleaned greens in a large pot of boiling water for about a minute. (Bitter greens like turnip greens, collards and certain types of kale may benefit from blanching. If you are using a sweeter type of greens like chard or spinach, you can skip this step.) Remove the blanched greens and chop. Heat some olive oil in a large skillet, and add the thinly sliced garlic. Sauté for a minute or two, but don't let the sliced garlic brown. Add the chopped greens and sauté while the sausages are cooking.
Notes
© 2021 Nancy Olah
All Rights Reserved.