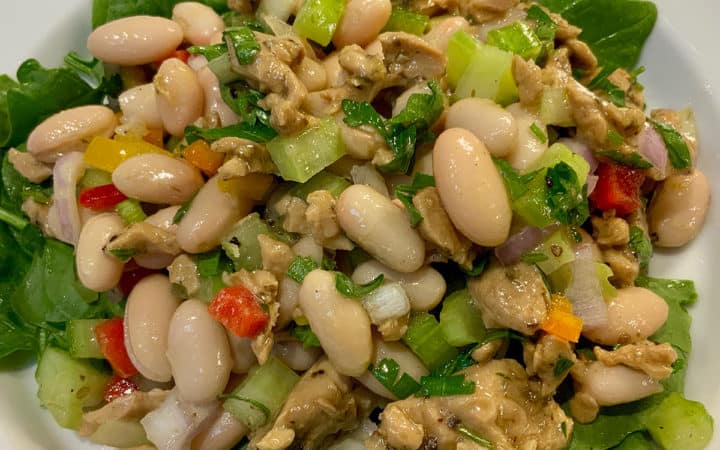 I recently learned about Good Catch, a cool company that makes plant-based seafood products.  Good Catch uses a blend of six plant proteins made from legumes – peas, lentils, chickpeas, soy, fava beans, and navy beans – and have created a credible stand-in for tuna.  Good Catch's Fish-Free Tuna has racked up several impressive awards from NEXTY and Veg News, most recently winning the 2020 Best Plant-Based Seafood category from World Plant-Based Awards. I figured it was high time that I gave Good Catch Fish-Free Tuna a try.
Good Catch's Fish-Free Tuna comes in three different varieties:
Mediterranean
Oil & Herbs
Naked in Water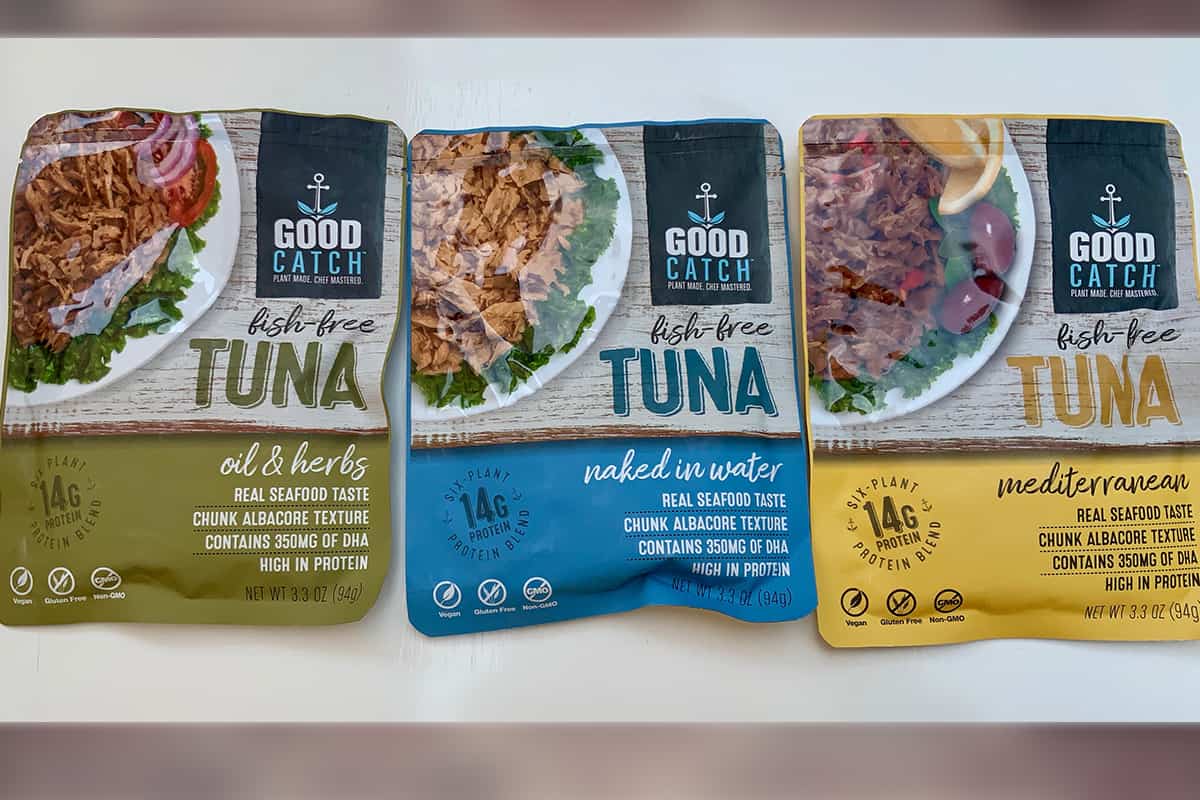 Each variety has 14 grams of protein, zero cholesterol, and 100 calories per serving. I chose Oil & Herbs as closest to what I would use if I was making this salad with "real" tuna. However, the Mediterranean variety would also be well suited to this recipe.
The recipe is simple and quick to prepare. Just gather your ingredients . . .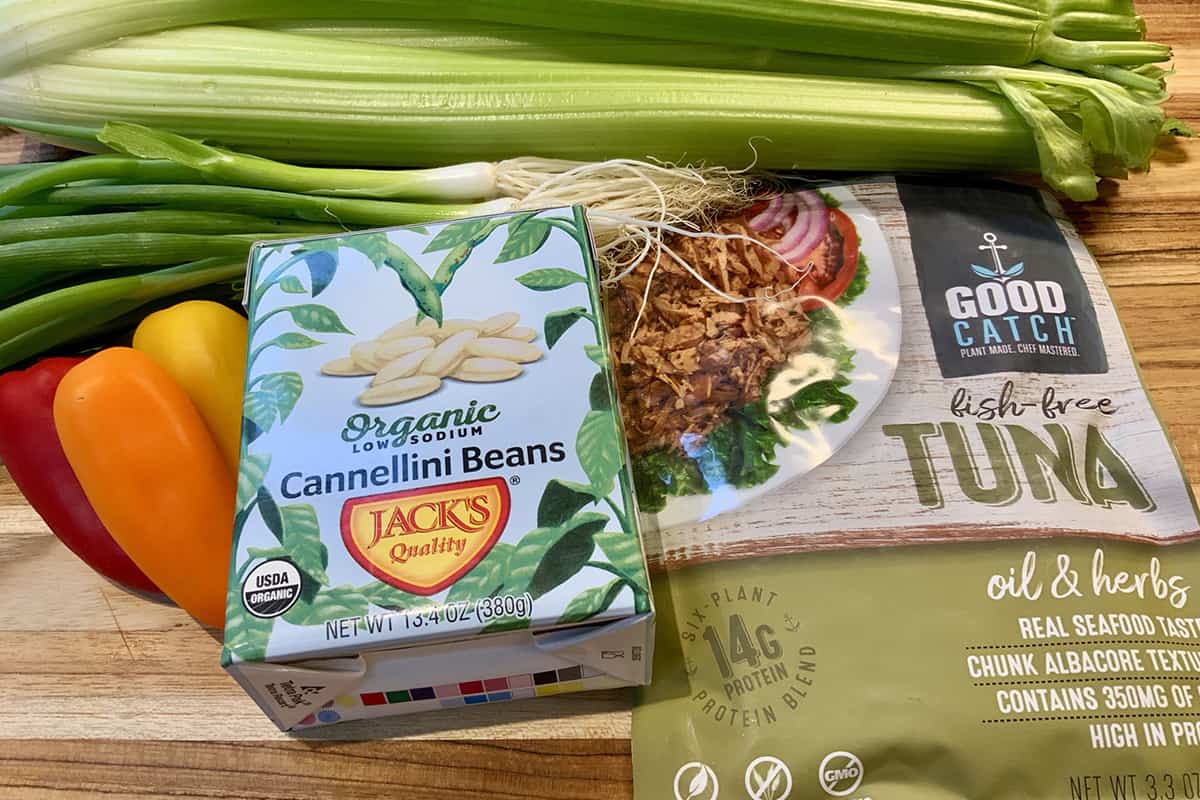 Mince your celery, colorful mini peppers, scallions,  and shallots . . .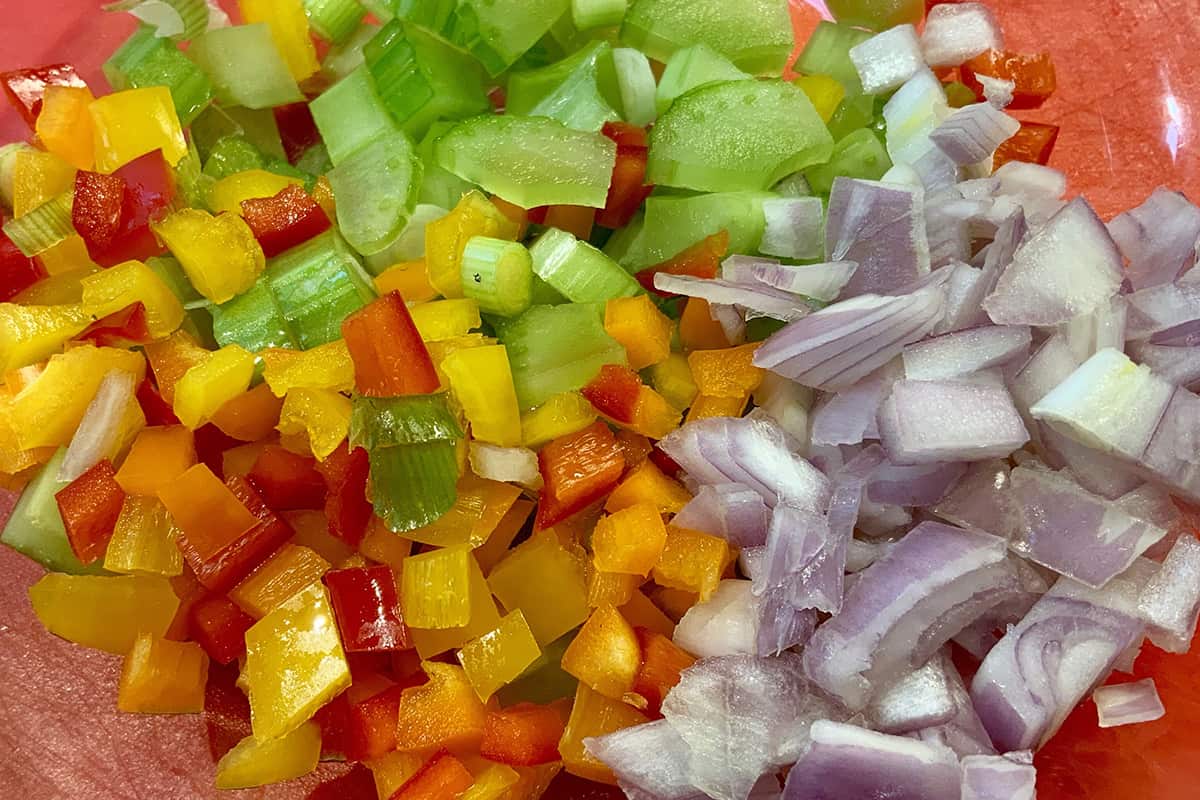 Drain and rinse your cannellini beans, and mix in all of the remaining ingredients.
The first thing I noticed is that the Fish-Free Oil & Herb Tuna is a little darker in color than "real" tuna, but it flaked well and had a very similar texture to real tuna.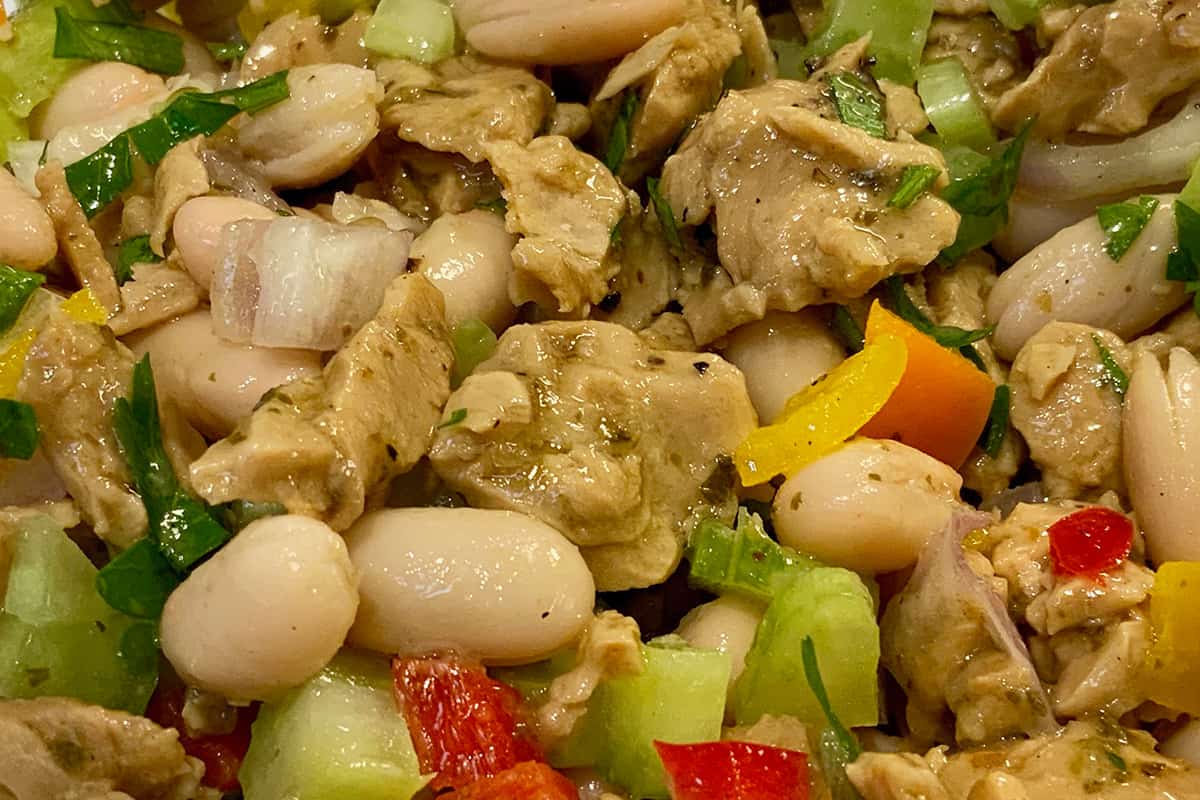 So that you can see and compare the difference in appearance for yourself, here's a shot of the same recipe made with SafeCatch Wild Albacore Tuna.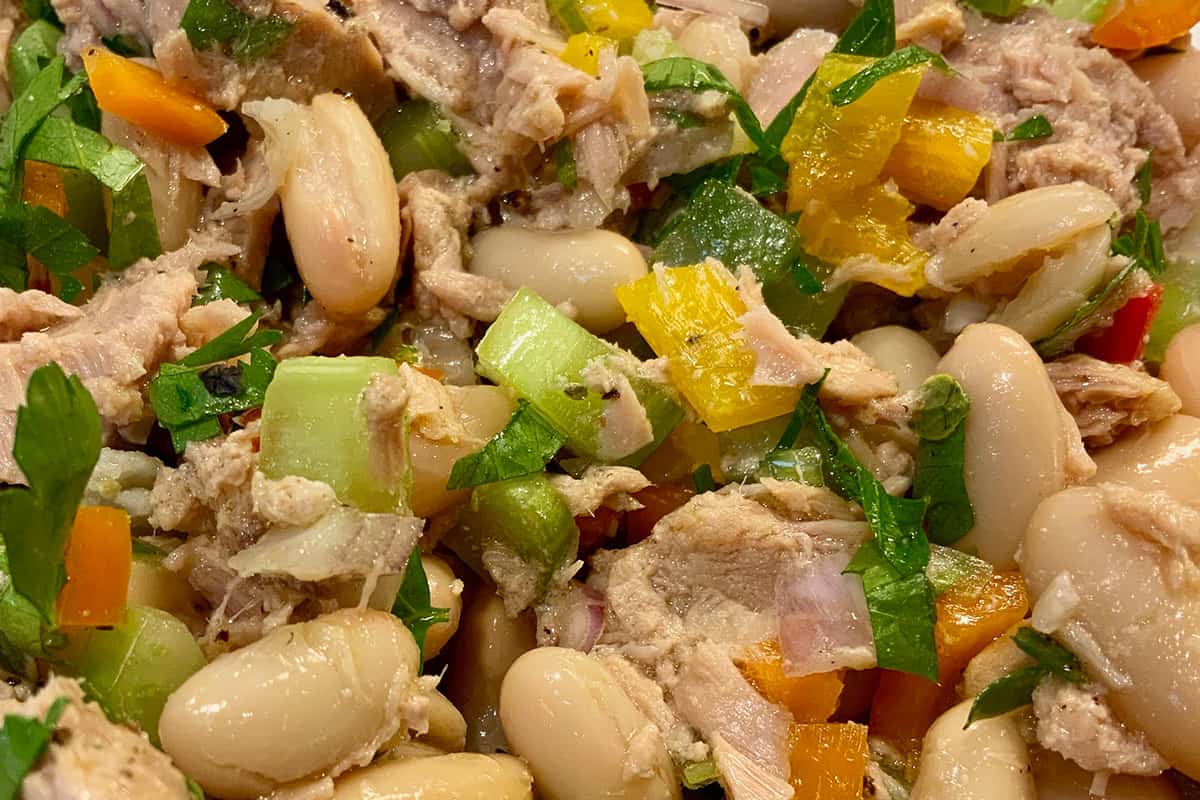 Since both salads look pretty darn similar to me, the question was whether I could fool my carnivore hubby was into believing that the Good Catch Fish-Free Tuna was "real" tuna.
Unfortunately, the answer was no . . . but not because of the taste! It was primarily because the Good Catch Fish-Free Tuna lacks that oh-so-distinctive fishy smell of real tuna.
The bottom line was that Good Catch produces a credible stand-in for tuna in terms of both taste and appearance . . . but without that fishy tuna smell.
Even if you're not a vegetarian or vegan, I hope that you will consider trying Good Catch's Fish-Free Tuna.  As a scuba diver, I'm concerned about overfishing, which is severely impacting many species of tuna.  There is also the problem of bycatch, which can represent 28% of the total catch according to World Wildlife Fund.  Because the commercial tuna industry still uses longline baited hooks and gillnets, bycatch can include swordfish, mahi mahi, dolphins, seabirds, and marine turtles which are unintentionally caught and throw away.  And last, but not least, there is the problem of mercury. Since predators like tuna are near the very top of the ocean's food chain, the mercury that tuna ingest by eating smaller fish adds up and bioaccumulates in their bodies.
How does mercury get into the ocean in the first place?  Generating electricity through burning coal and incinerating waste are two of the reasons why airborne mercury has contaminated our oceans, lakes, and rivers.
As we approach Earth Day this week, let's think about simple ways that we can break the cycle of overfishing, bycatch, and mercury contamination associated with commercial tuna fishing.
Perhaps one easy way is to reach for a pouch of Good Catch Fish-Free Tuna!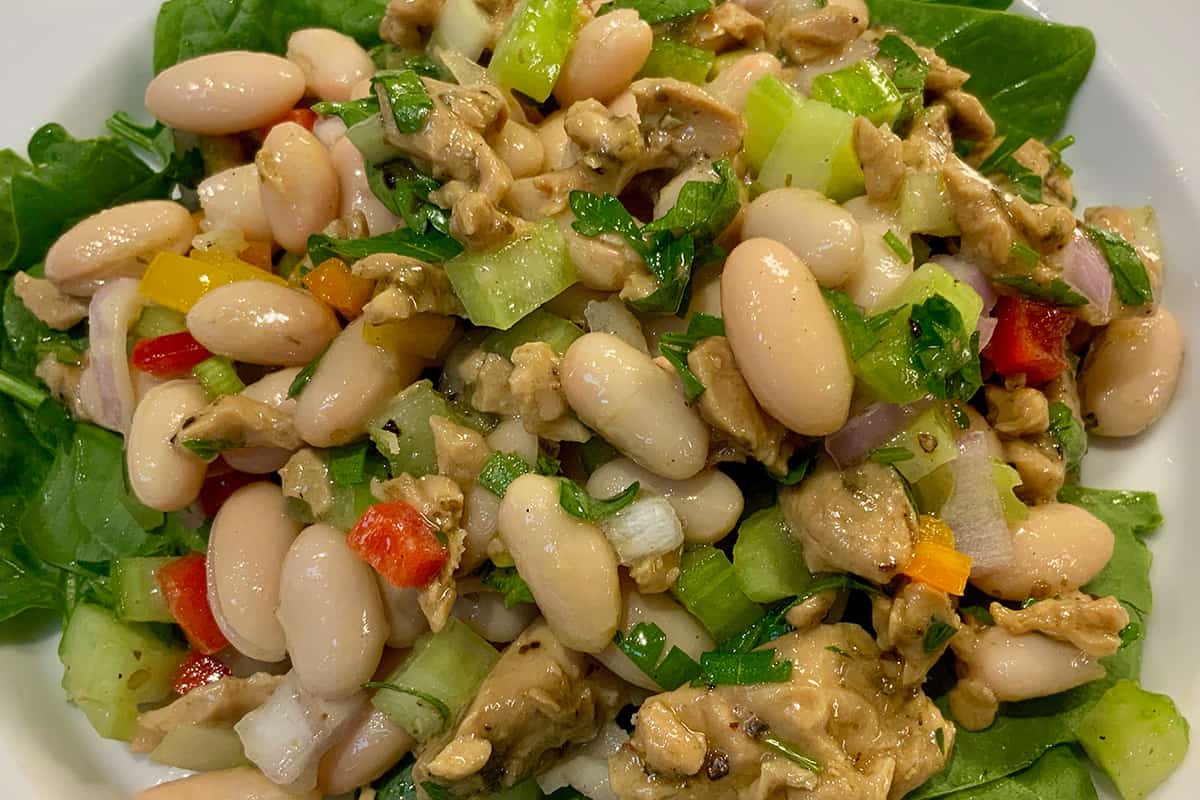 Fish-Free Tuna and Cannellini Bean Salad
Recipe type:
Easy Weeknight Meals
Ingredients
1 stalk celery, minced
3 small mini peppers (orange, yellow, and red), minced
5-6 scallions, minced
1-2 shallots, minced (depending on size)
15-ounce can or carton organic cannellini beans, drained and rinsed
Several sprigs fresh flat leaf parsley, leaves finely chopped
Several sprigs lemon thyme, leaves removed and stems discarded
2 packages Good Catch Fish-Free Tuna Oil and Herbs or Mediterranean (or one of each)
Sea salt and freshly ground pepper
1 large lemon, juiced
2 tablespoons organic extra virgin olive oil
Instructions
Combine all of the ingredients in a medium bowl. Taste and adjust seasonings. Serve on a bed of mixed greens.
Notes
© 2021 Nancy Olah
All Rights Reserved.