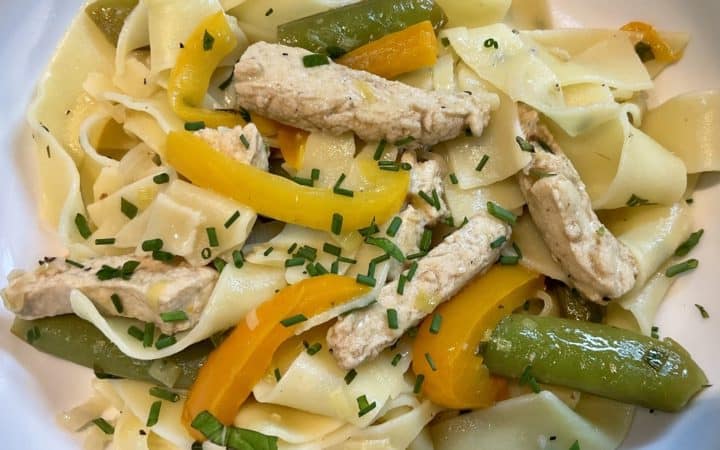 Sugar Snap Peas are one of my favorite spring vegetables. Paired with leeks, purple scallions, orange and yellow peppers, Meyer lemon, and Gardein Meatless Chick'n Strips, they produced a bright and colorful dinner that was a snap to make. (Pardon the pun!)
Sugar snap peas take only a few minutes to prepare, but "stringing them" is very important to get the peas to cook evenly and so those nasty, chewy strings don't get stuck in your teeth. Although some people string the peas without a knife, I like to use a 3" bird's beak paring knife to neatly cut off
the stem  and then "unzip" the string along each side of the pea. Look at how many strings came from prepping this pint of peas from my good friends at Crouching Hippo Farm!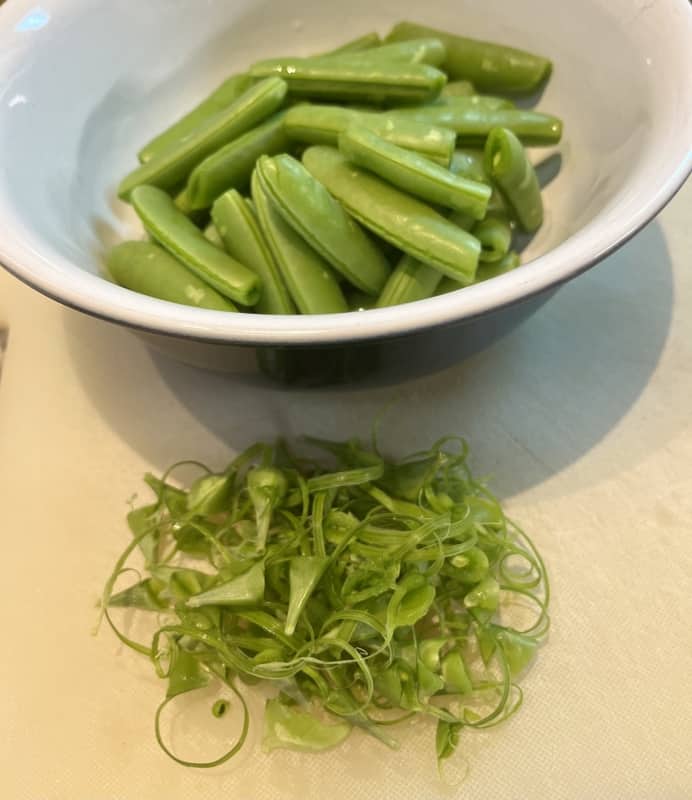 Leeks have a much milder, sweeter taste than onions, and despite their reputation for being gritty, I haven't found that to be the case with the lovely leeks I've been buying from Cody at Southern Greens Farms.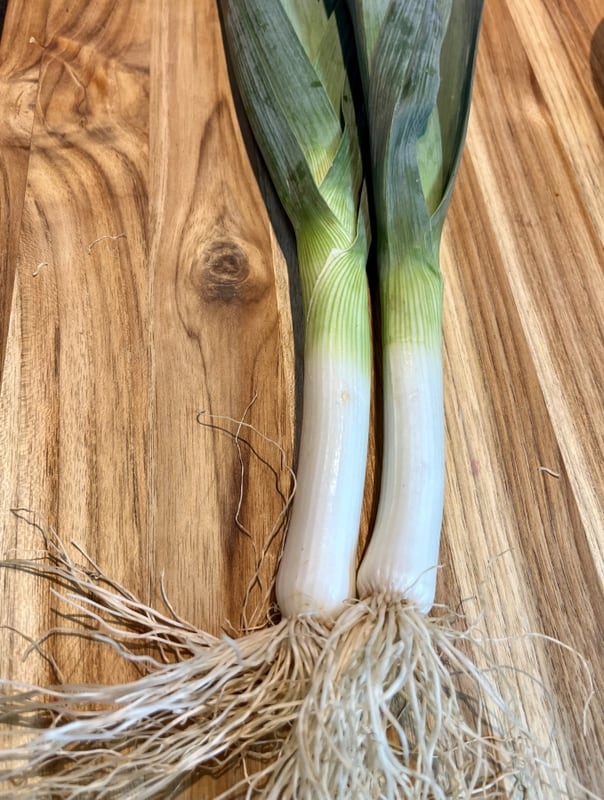 Purple scallions from Honeytree Farms gave my sauté the purple pop of color of shallots, but without the bite.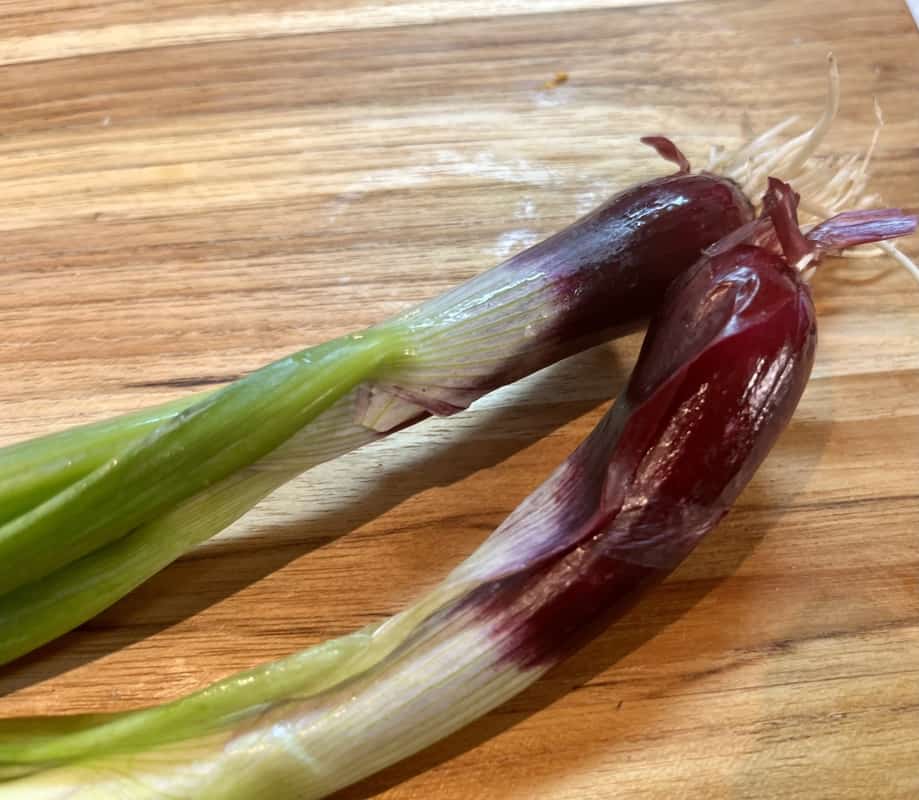 I liked the look of both yellow and orange bell peppers, but red bell pepper strips could be fun too, if that's what you have.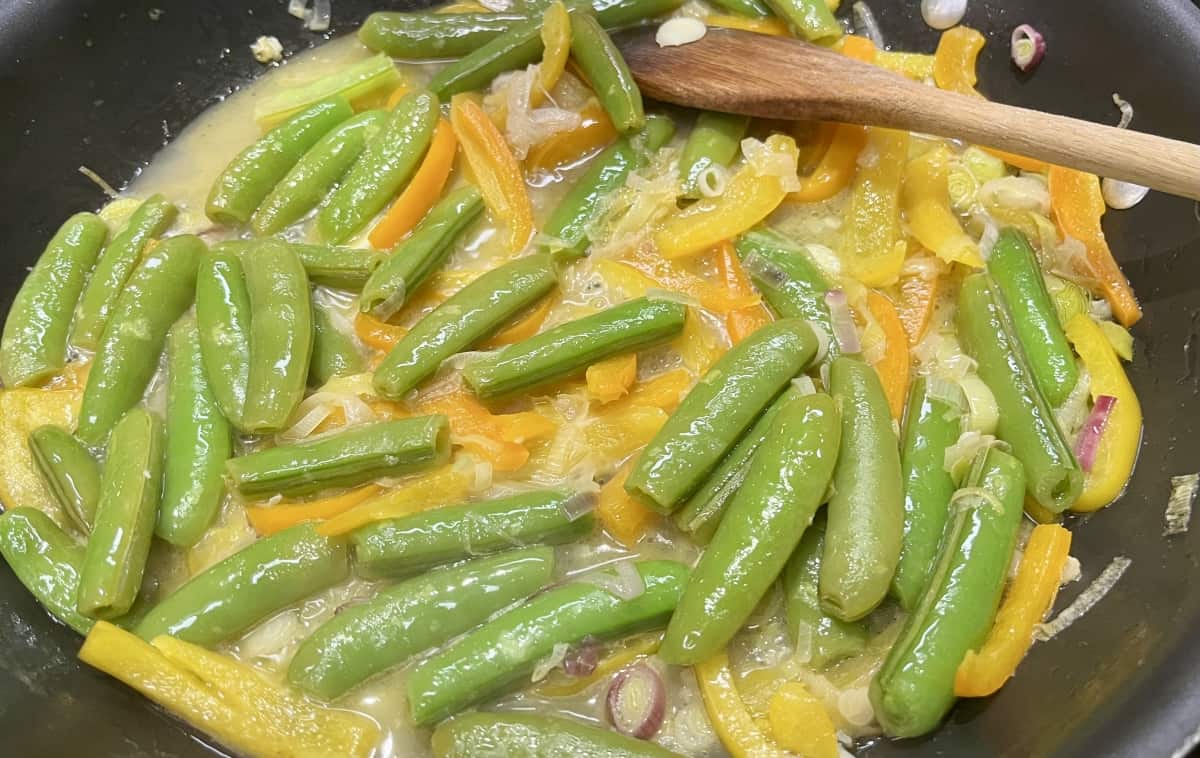 Meyer lemons and fresh herbs like parsley, mint, and chives are important components of this dish. Meyer lemons are sweeter than regular lemons, and have a much thinner skin, so be careful when you zest them.  In the photo below you can see that the regular lemon on top is a little larger in size and much more yellow.  The Meyer lemon on the bottom is  a yellowish orange, which makes sense because it is a hybrid cross of a lemon and a mandarin orange. Since Meyer lemons are only available from around December through May, I wanted to make use of its sweet-tart taste to brighten my concoction.  But, if you can't find Meyer lemons at your grocery store or farmers market, don't worry – your pasta sauce will still be tasty using regular lemons.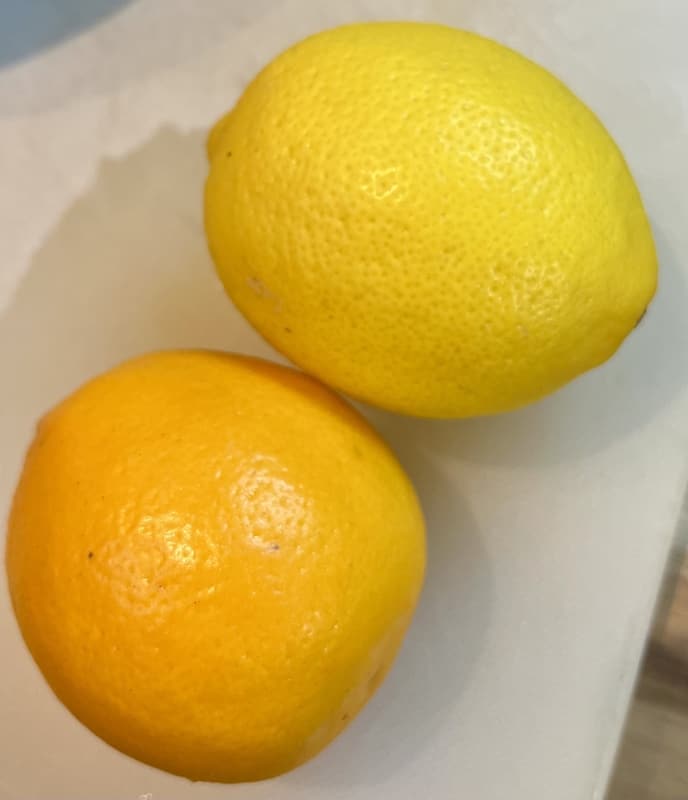 Although this dish can be made completely vegan by substituting plant-based butter or olive oil and choosing a pappardelle made without eggs.  However,  I spoiled myself on Mother's Day and used unsalted cultured butter from UAV and organic egg pappardelle by Bionaturae.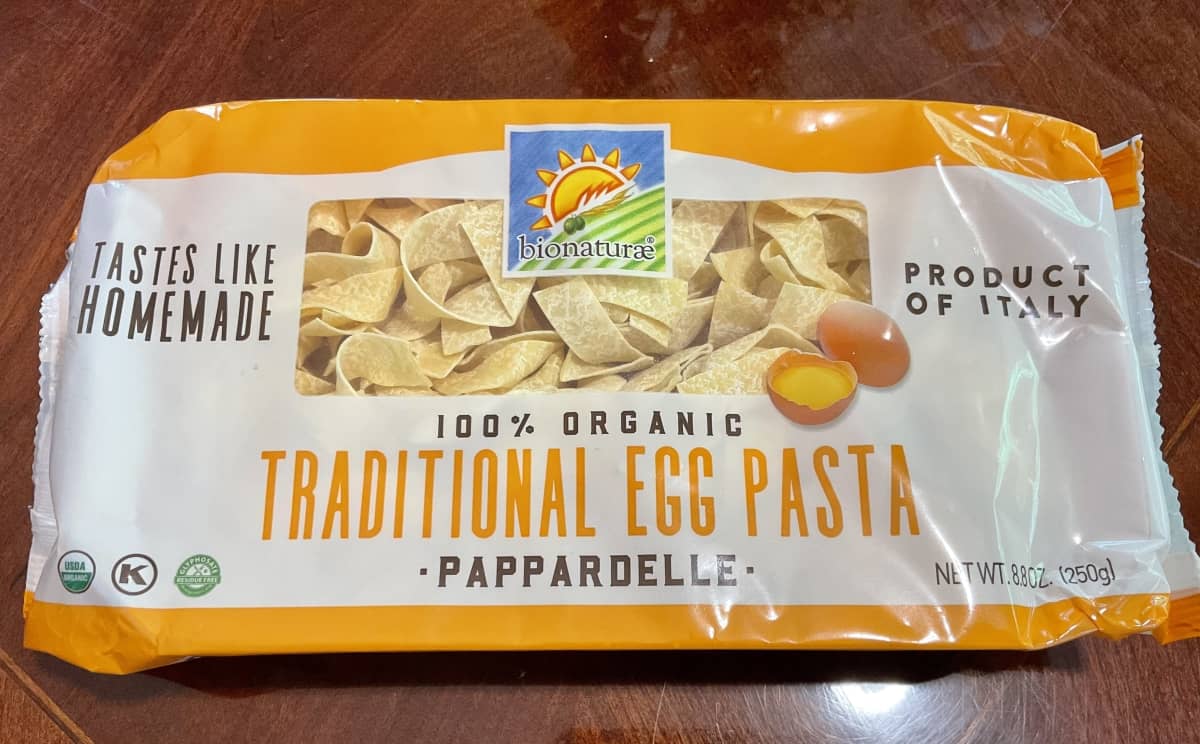 Gardein Meatless Chick'n Strips are a versatile addition to your meatless repertoire. They are vegan and a 130 calorie serving contains 15 grams of protein. I like them because they cook quickly, retain their shape and texture, and can fill in for almost any recipe that asks for "real" chicken strips. Unlike some of the other Gardein products, they come unadorned and without some cloyingly sweet sauce that I end up throwing away!  I removed the package from the freezer when I began cooking so that the strips were slightly thawed and easier to cut in half when I got ready to add them to the skillet.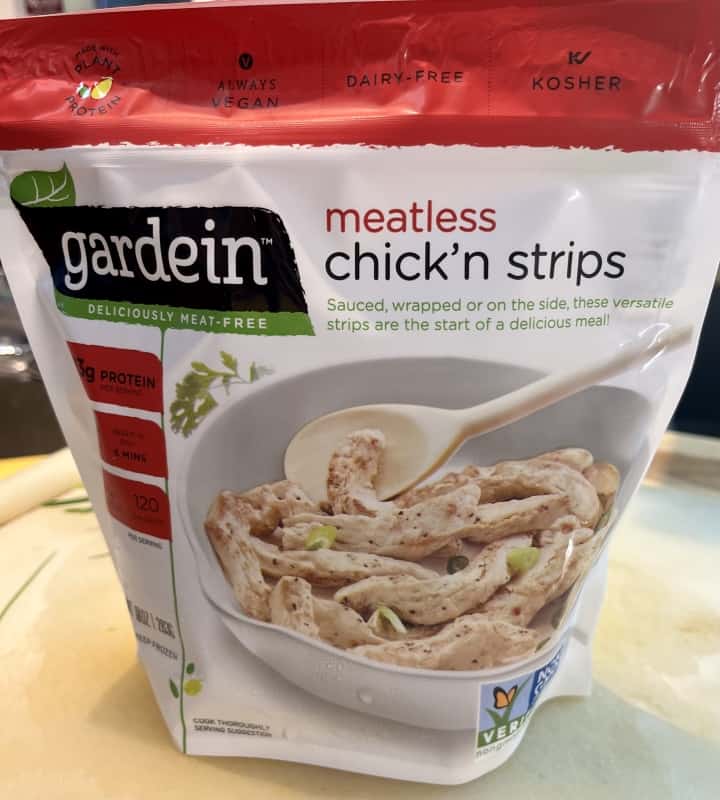 My Lemony Sugar Snap Pea Pappardelle came together in just 30 minutes. I hope you'll give it a try!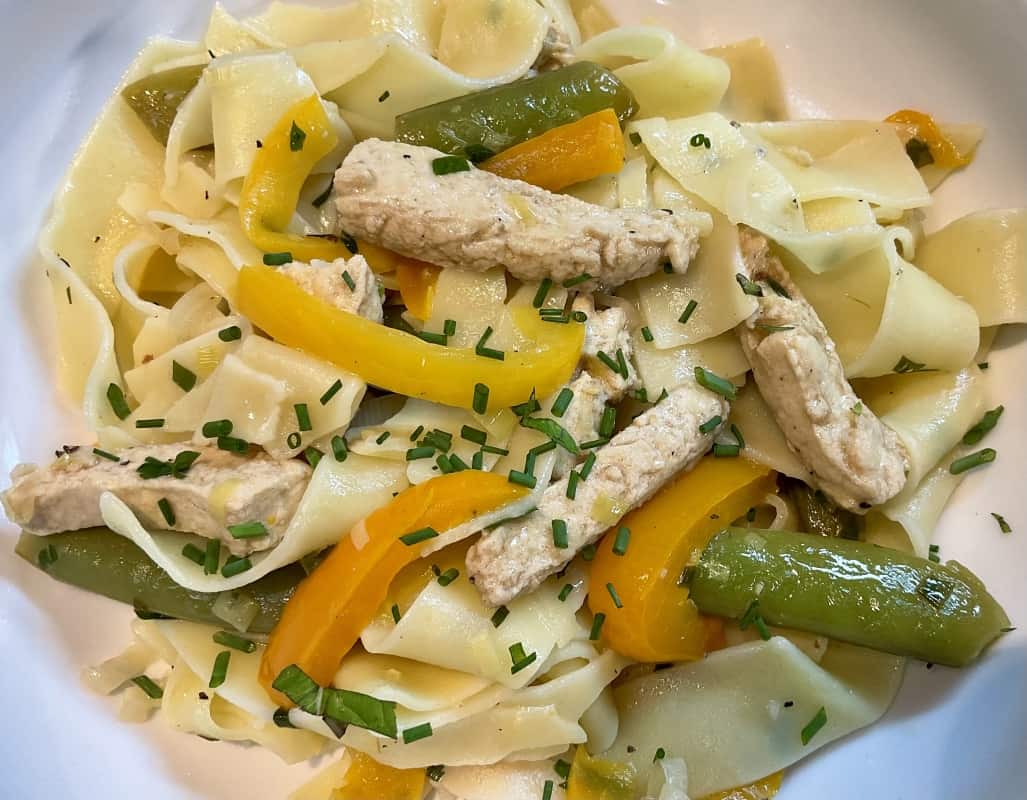 Lemony Sugar Snap Pea Pappardelle – the Perfect Springtime Pasta!
Recipe type:
Easy Weeknight Meals
Ingredients
3-4 tablespoons unsalted butter (divided use), or use vegan butter or olive oil
2 leeks, bottoms removed and thinly sliced up to where the leek begins turning green
2 purple scallions, bottoms removed and thinly sliced
½ yellow bell pepper, sliced into thin strips
½ orange bell pepper, sliced into thin strips
2 garlic cloves, pressed or minced
Pint of sugar snap peas, strings removed
⅓ cup dry white wine or vermouth
¼ cup organic vegetable stock
1 package Gardein Meatless Chick'n Strips, each strip cut in half
1 Meyer lemon, zested and juiced
8.8 ounce package Bionaturae organic pappardelle
Sea salt and freshly ground black pepper
Several sprigs of mint, parsley, and chives, leaves chopped or snipped with herb shears
Freshly grated Parmesan (optional)
Instructions
Put a large pot of water on to boil. Prep all your vegetables before you start, because this dish will come together quickly.
Heat a large skillet and melt two tablespoons unsalted butter. Add the sliced leeks and sauté for 3-4 minutes. Add the purple scallions, followed by the bell pepper strips, and then the garlic; sauté for a couple of minutes and then add the wine, salt, and pepper. Turn the heat low and cook for another 3-4 minutes.
Add a tablespoon of salt to the boiling water. Put the sugar snap peas in a steamer basket and blanch the peas for about 3-4 minutes. Remove the steamer basket and put ice over the sugar snap peas to stop them cooking so that they keep their bright green color and crisp texture. (Blanching the sugar snap peas can be done at the same time as you're sauteing the other ingredients if you are good at multi-tasking!)
Add the blanched sugar snap peas to the skillet, along with the vegetable stock, and the Gardein Meatless Chick'n Strips. While this is cooking, bring the pot of water back to a rolling boil and then add the pappardelle. The pappardelle will only take about 4 minutes to cook, so at the same time, add the juice and zest of the Meyer lemon to the skillet, along with the remaining tablespoon (or two) of unsalted butter. Taste the veggie/chick'n mixture and correct seasoning.
Check the pasta to make sure it is al dente. Remove a cup of pasta water and then drain the pasta into a colander.
If your skillet is large enough, add the pasta to the vegetables and chick'n strips in the skillet. If your skillet is too shallow, put the pasta back in the still hot pot that you used to boil the pasta, and add the veggies and chick'n strips. Use the cup of reserved pasta water to rinse out the skillet to make sure that you get all of the remaining goodness from the skillet into the finished dish.
Add half of the chopped parsley, mint, and chives and stir to incorporate. Taste and adjust the salt and pepper if needed. Sprinkle the remaining herbs onto each bowl of pasta, along with the optional Parmesan.
Notes
© 2022 Nancy Olah
All Rights Reserved.