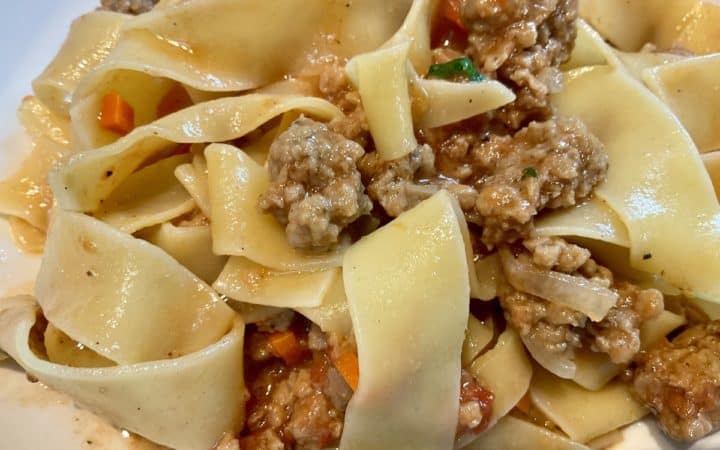 One of the lovely things about being snowed in (which is a rarity for us in the Carolinas) is the opportunity to cook hearty dishes that take a long time to make.
For example, last night I made French Onion Soup and the night before in the leadup to our winter storm, I experimented with my own vegetarian version of Bolognese Sauce using Impossible Sausage.
I've always avoided trying to convert recipes that cooked meat for a long period of time because I bought into the idea that plant-based counterparts would be harmed by long cooking.
I was wrong!
My hubby brought home a 14 oz. package of Impossible Sausage (Savory) that had a rapidly approaching "sell by" date, so I decided to experiment with one of the longest cooking pasta sauces I know – Bolognese.
Most recipes that use meat suggest cooking it for 3-4 hours – or more! How on earth would a plant-based product hold up to such a long cooking time?
While most Bolognese recipes call for both ground beef and ground pork, I did find a few versions that contained only ground pork.
I went back to the source – Marcella Hazan's Essentials of Classic Italian Cooking – so I could figure out how to adapt a recipe that is so meat-centric into a pasta sauce that vegetarians could enjoy. (Although Impossible Sausage is vegan, Bolognese sauce uses dairy products like butter and milk.  Creating a vegan version is going to have to wait for another snowy weekend!)
The first thing I noticed was that Marcella cooks her sauce slowly . . . so I decided that my workhorse Cuisinart Cook Central 4 in 1 Multi-Cooker was the way to go.
I cooked my soffritto (finely chopped onion, followed by celery and carrots) at 250 degrees – the lowest sauté setting on my slow cooker.
I then added the Impossible Sausage, breaking it up as much as possible, adding sea salt and freshly ground pepper.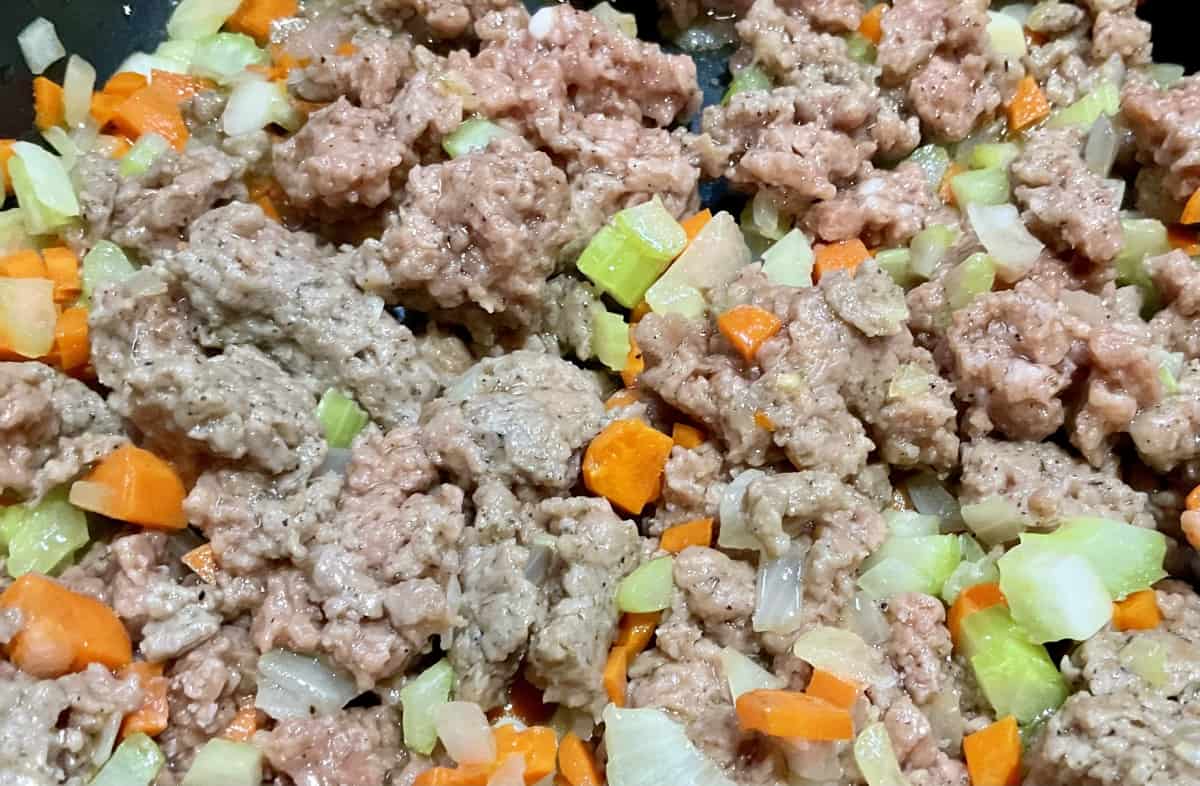 Next comes ½ cup of milk and a bit of nutmeg.  Sounds crazy right? But supposedly the milk helps tenderize the meat.  My Impossible Sausage didn't need to be tenderized, but I figured the milk had to impart flavor, so I began cooking it down until the milk had evaporated. (It obviously hasn't evaporated yet in the photo below!)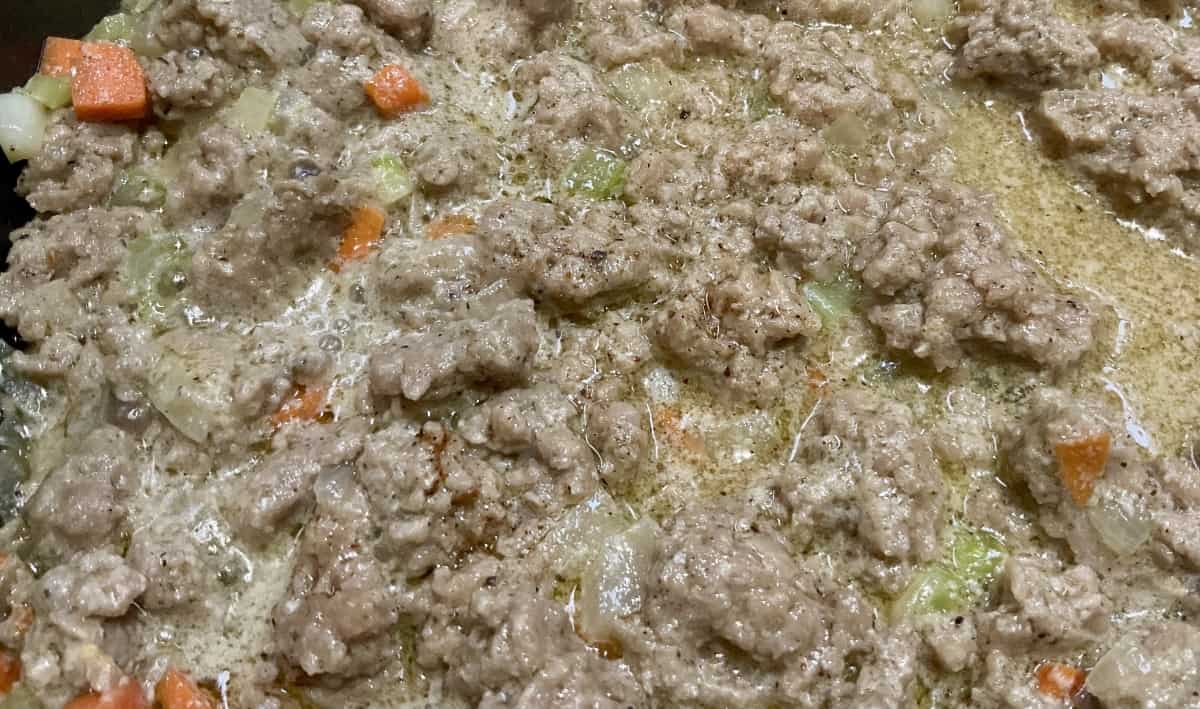 White wine comes next, which also needs to simmer until it has evaporated.
Last, but not least, comes Italian diced tomatoes.  BTW, I love the quality and convenience of Jovial Organic Diced Tomatoes.  They come in an 18-ounce glass jar which allows me to use as much (or as little) as I need, and seems far less wasteful than opening up a can.
Although Marcella's classic recipe used only 1 ½ cups of tomatoes, I opted for a bit more (2 1/4 cups), which provided a rich juicy contrast to the simmering sausage.
Marcella suggests that you turn the heat down to produce " . . .the laziest of simmers", so to me that called for switching over to the low setting using the slow cooker function for the next few hours.
I added some fresh parsley toward the end, and served my vegetarian Bolognese over Bionaturae Organic Egg Pasta Pappardelle.
I was amazed that the Impossible Sausage stood up to such long, slow cooking and still retained its distinctive meat-like texture.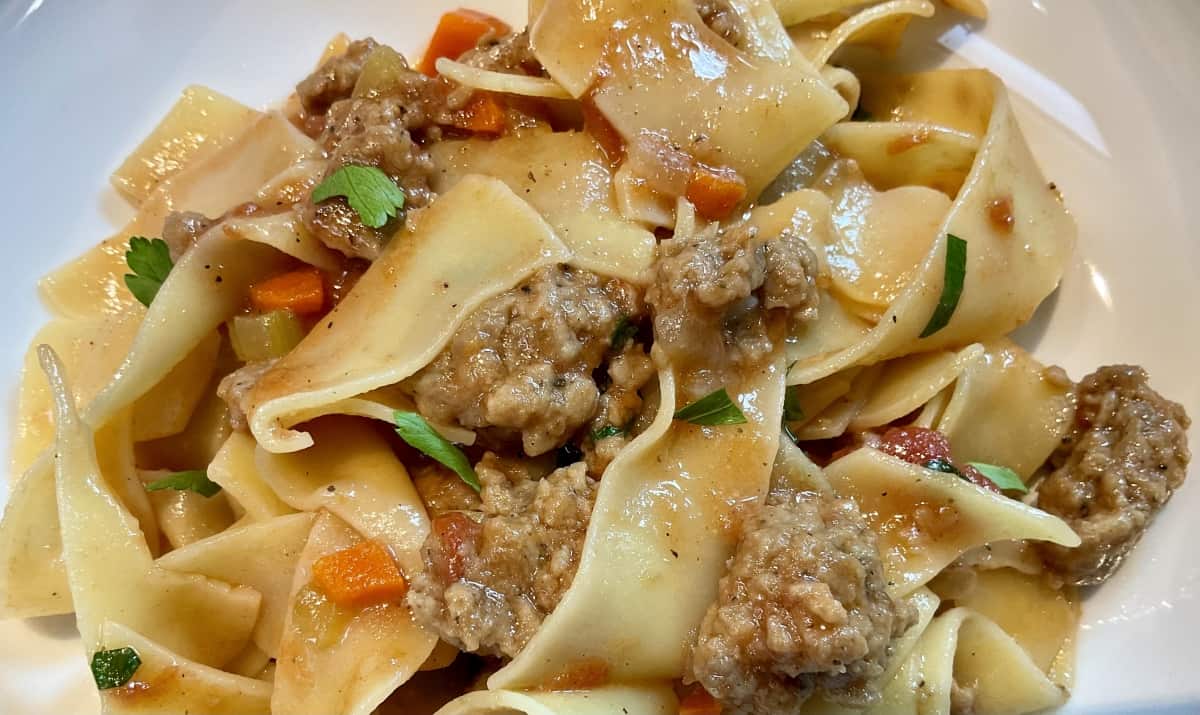 Next up?  Making another batch of Bolognese sauce with both Impossible Burger and Impossible Sausage so that I can see if the combination of  vegan beef and vegan pork  enhances the Bolognese sauce.  However, next time, I won't wait for a snow day!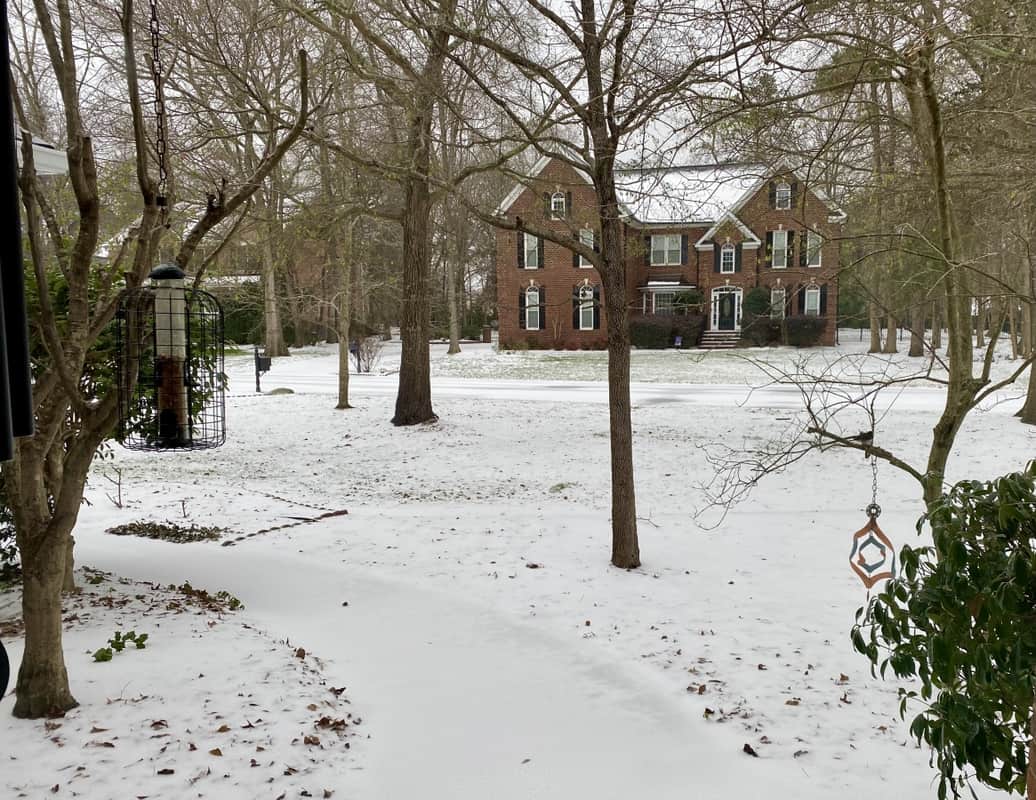 Pappardelle with Sausage Bolognese
Recipe type:
Slow Cooker Meals
Ingredients
1 Tablespoon extra-virgin olive oil
2 Tablespoons unsalted organic butter
½ cup finely chopped onion
½ cup finely chopped celery
½ cup finely chopped carrot
14 oz. package Impossible Sausage (Savory)
Sea Salt and freshly ground black pepper
½ cup milk
⅛ teaspoon ground nutmeg
½ cup white wine
2 ¼ cup diced organic tomatoes
Fresh Italian parsley, minced
8.8 ounce package of organic pappardelle (the Bionaturae egg pasta is my favorite)
Freshly grated Parmigiano-Reggiano
Instructions
Put the olive oil and butter in a large pot over low heat (or use your slow cooker on the lowest sauté setting) and add the onion. Cook the onion until it is translucent (about 5-6 minutes), and .then add the chopped celery and carrot. Cook for another 3-4 minutes, stirring the vegetables to make sure they are well coated with the butter and olive oil.
Add the Impossible Sausage, breaking it up as much as possible. Add salt and pepper, and cook for about 4-5 minutes until no pink patches remain.
Keeping the heat low, add the milk and the nutmeg and simmer gently until the milk is completely gone.
Add the wine, and continue to simmer until it has been absorbed into the Impossible Sausage pieces.
Add the diced tomatoes. Cook over very low heat (or the low setting on your slow cooker) for at least 3 or 4 hours. If the sauce begins to look dry or starts to stick, either add some water or some more diced tomatoes.
Add the minced fresh parsley and taste to see if the sauce needs a bit more salt and/or pepper.
Serve over pappardelle or tagliatelle, with some freshly grated Parmigiano-Reggiano.
Notes
© 2022 Nancy Olah
All Rights Reserved