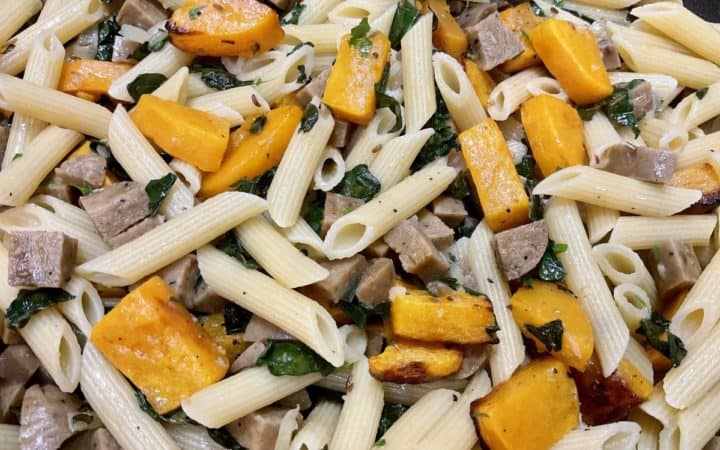 Even though it seems like everyone is getting ready for  Thanksgiving, this is the perfect recipe for a hearty weeknight meal that doesn't duplicate the dishes you'll be preparing  next week. Butternut squash is one of my favorite fall vegetables, and roasting it in the oven brings out its sweetness.  The greens in this recipe are flexible – I've made it with spinach and with  lacinato kale – but it could also work with Swiss chard or baby collards. My vegan sausage choice is Field Roast Smoked Apple Sage Sausage because its mild flavor compliments the butternut squash and greens.
And the best news is that this easy recipe is completely vegan.
Your first step is to prepare the butternut squash.  I had an absolutely enormous butternut squash, and once I cut off the bulbous portion from the neck, the neck weighed about 1.5 lbs. – which was just the amount I needed! I just used a sturdy vegetable peeler to completely remove the skin . . .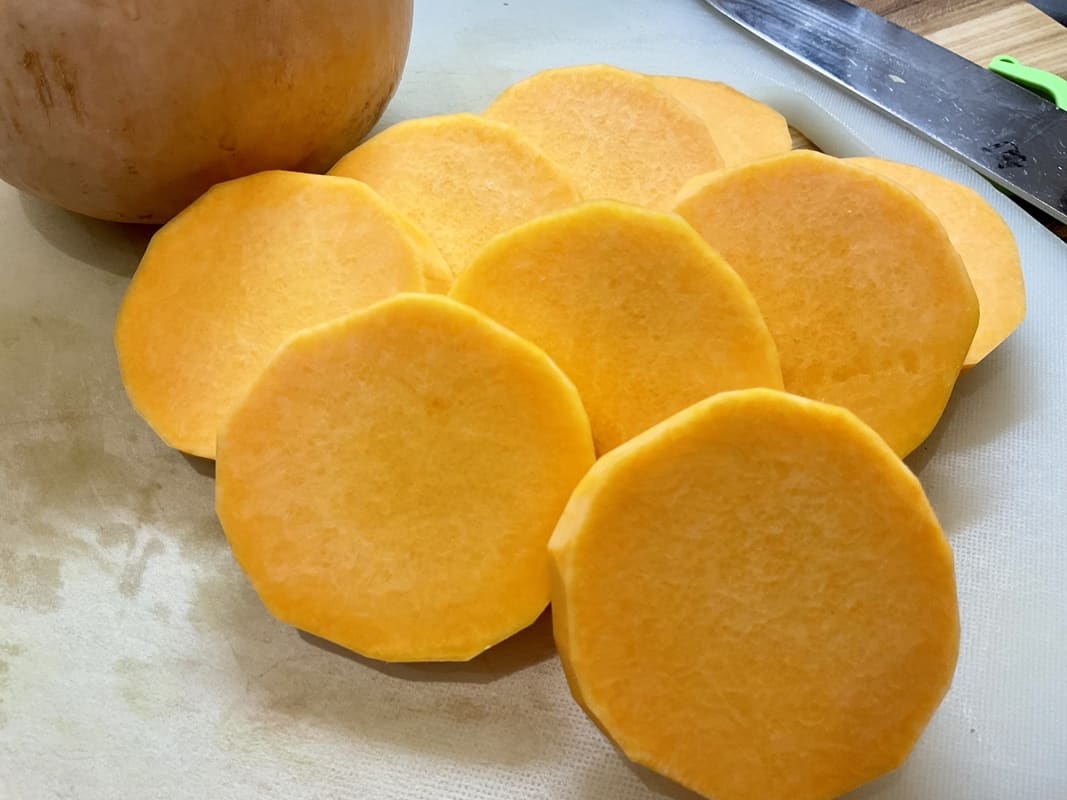 . . . and then chopped the slices into pieces (about 3 cups worth).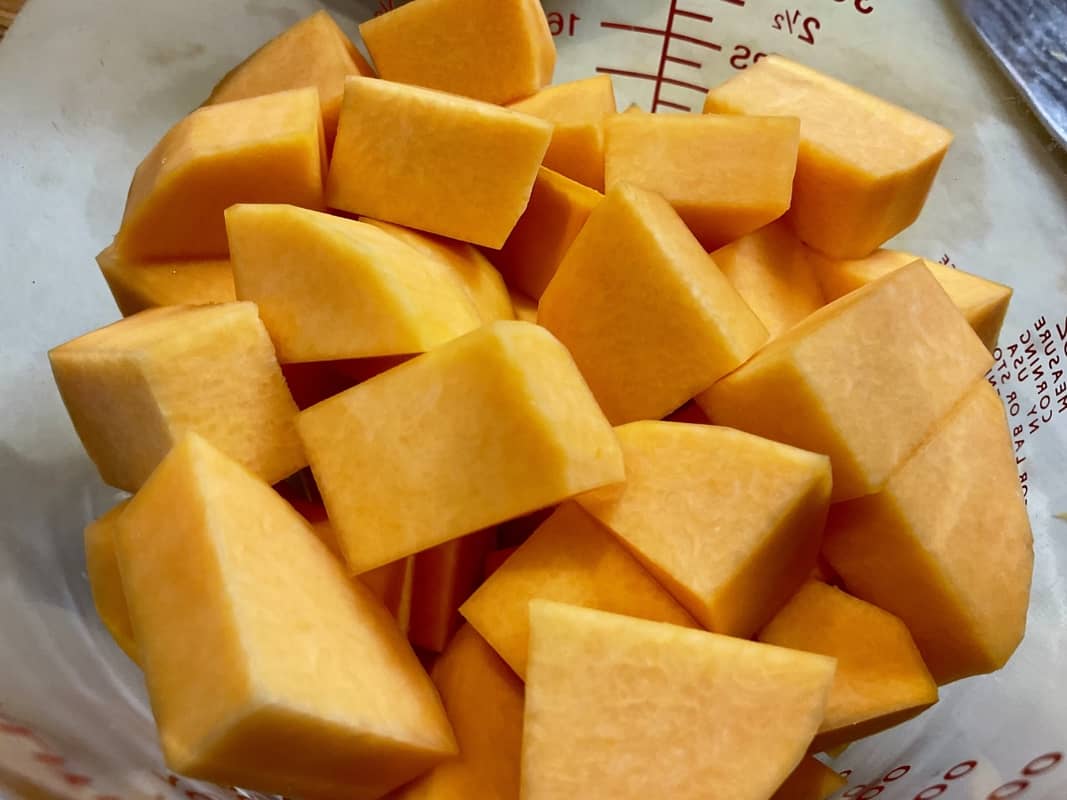 (Of course, you can always use pre-cut squash to eliminate this step, which will save you about ten minutes of prep time!)
While the butternut squash is roasting in the oven on a foil-lined rimmed sheet pan, sauté the diced onion, followed by garlic, cumin seeds, and red pepper flakes, before adding your greens.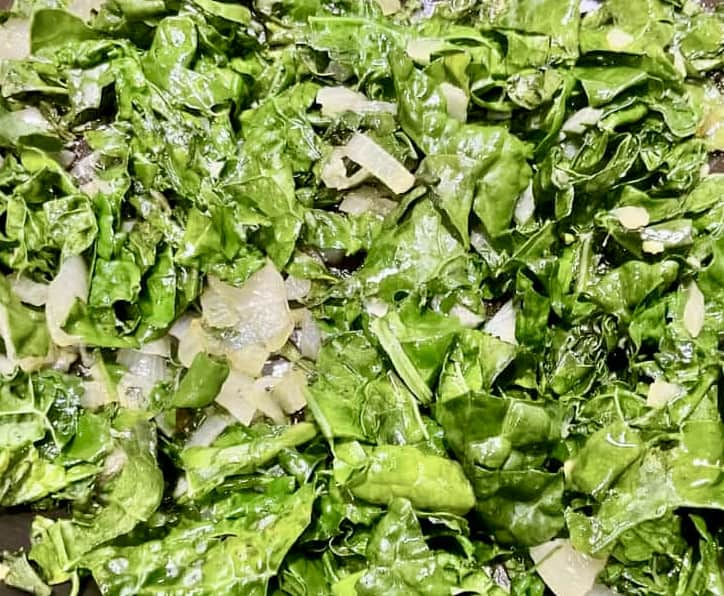 Spinach will cook more quickly than lacinato kale or chard, with baby collards taking the longest to cook. Please use your judgment on cooking time. You know how tender your family likes their greens!
Add your chopped Field Roast Smoked Apple Sage Sausages . . .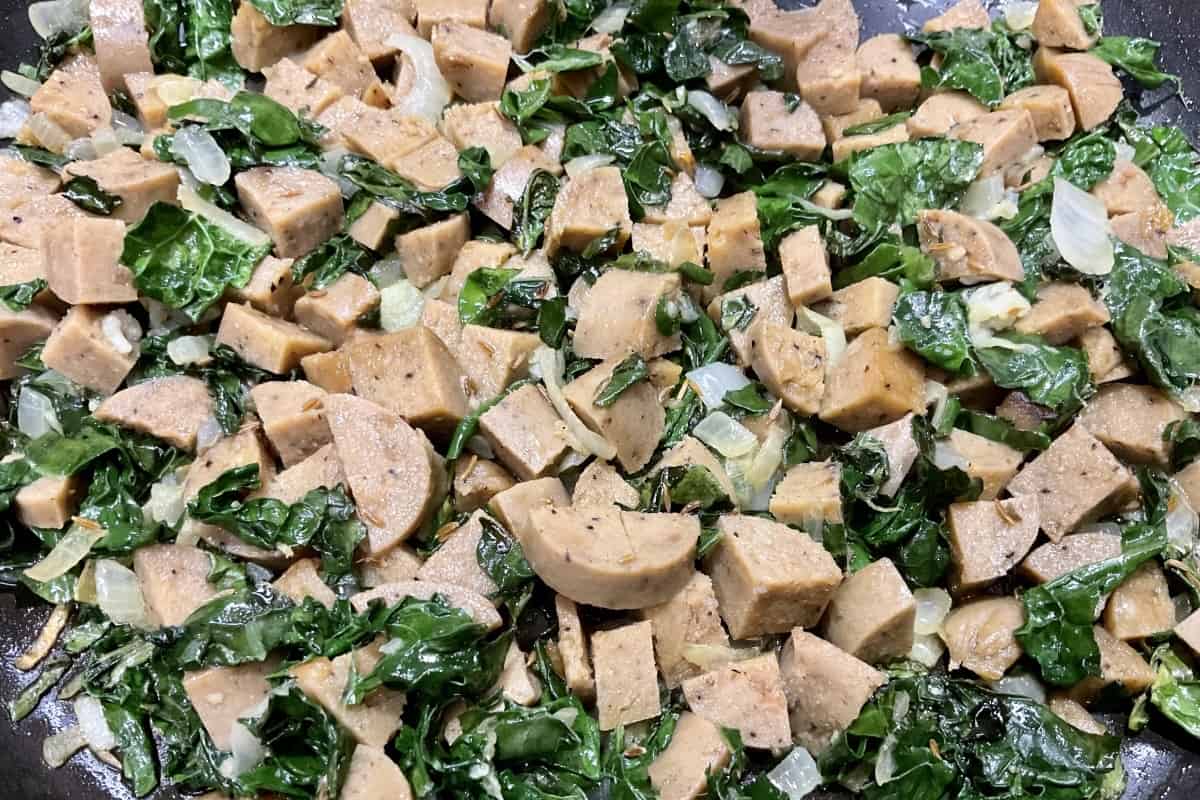 . . . and then your penne and some of the pasta water.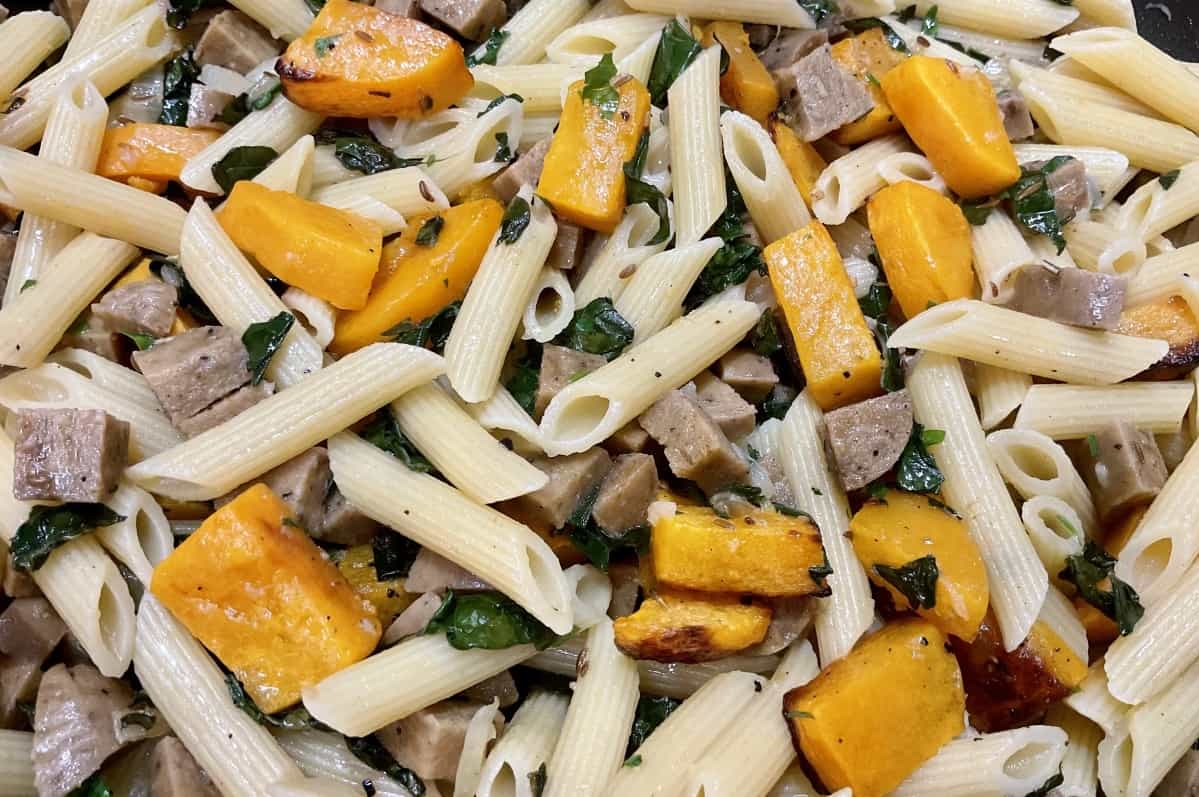 I loved the creamy texture of the oven-roasted squash, which paired well with the bite of the greens and the pleasant chewiness of the sausage pieces.
The pasta is delicious  – and completely vegan –  at this point.  However, if you  eat dairy, feel free to top the pasta with one or more of the suggested cheeses. The fresh burrata is especially good! (But first, please try it without the cheese.)
Ultra simple, healthy, and completely vegan. Please try my recipe!

Penne with Oven-Roasted Butternut Squash, Greens, and Field Roast Smoked Apple Sage Sausage
Recipe type:
Easy Weeknight Meals
Ingredients
3 cups of butternut squash pieces (about 1.5 lb. of butternut squash, peeled, seeded, and cut into cubes)
2 tablespoons extra virgin olive oil (divided use)
½ medium onion, diced
2 cloves garlic, minced
1 tablespoon cumin seeds (or use ground cumin if you prefer)
½ teaspoon red pepper flakes, or more if you like things spicy
1 large bunch of spinach or lacinato kale, stemmed and thinly sliced into ribbons (about 3-4 cups of ribbons)
12 ounces penne
3 or 4 Field Roast Smoked Apple Sage Plant-Based Sausages, quartered lengthwise and chopped into fairly small pieces
Salt and freshly ground black pepper
(Optional additions if you eat dairy are fresh mozzarella, burrata, and/or Parmesan)
Instructions
Heat oven to 400 degrees. Put a large pot of water on to boil.
Toss squash cubes with 1 tablespoon olive oil, salt, and pepper and roast on a foil-lined sheet pan for 30 minutes (or until soft, and slightly browned in spots).
Meanwhile, heat a large skillet, and add remaining tablespoon of olive oil. Sauté the diced onion until translucent, then add the pressed garlic, cumin, and red pepper flakes and sauté for another minute.
Add the spinach or kale ribbons to the skillet and sauté at the same time as the pasta cooks in the next step. Add the Field Roast sausage pieces to the skillet about 5 minutes before the pasta is done.
Add a tablespoon of salt to the boiling water. Add the pasta to the boiling water and cook uncovered according to package directions until al dente. Reserve 1 cup of the pasta water before draining the pasta into a colander.
Your squash should be done at this point, so remove the squash from the oven. Add the oven roasted squash to the skillet, followed by the drained pasta and about ½ cup of the pasta water. Stir to combine and assess if you need more of the pasta water.
Taste and season with salt and freshly ground black pepper.
Notes
© 2021 Nancy Olah
All Rights Reserved.